British, Turkish warships arrive in Ukraine for NATO Black Sea drills (PHOTOS)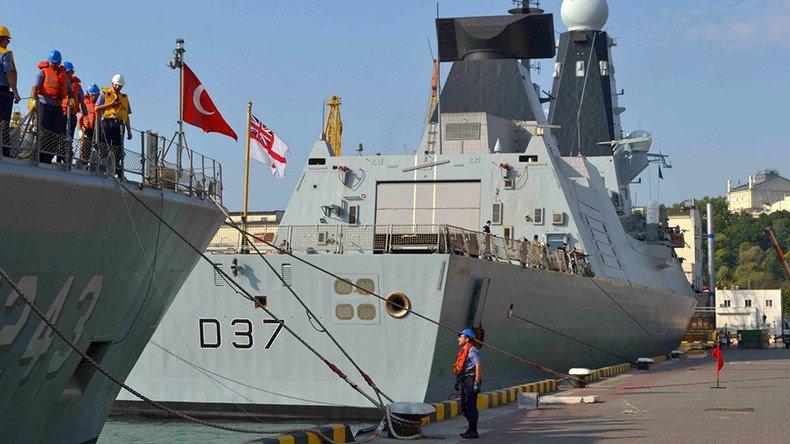 A British missile destroyer and a Turkish frigate have docked at the port of Odessa in Ukraine for a joint NATO maritime exercise, which comes just a week after the bloc's massive Sea Breeze war games took place off the same shore.
The Royal Navy's 'HMS Duncan' and the Turkish Navy frigate 'Yildirim' moored in the Black Sea port of Odessa on Monday, the Ukrainian Defense Ministry wrote on its website. Both ships, which belong to NATO Standing Maritime Group 2 (NSMG2) covering the Mediterranean, are expected to remain in Ukrainian waters until July 27.
"The program of the ships' visit includes a joint exercise with the Ukrainian Navy to train mid-sea survival skills as well as surveillance operations," the press release said.
It added the British and Turkish warships will then participate in separate naval drills, a so-called 'passing exercise' (PASSEX), involving Ukrainian vessels. Usually, PASSEX-type exercises are conducted to ensure that vessels from different navies are able to communicate with one another in wartime or during humanitarian operations.
'HMS Duncan' is the sixth and last of the Type 45 air-defense destroyers commissioned for the Royal Navy.
READ MORE: Sea Breeze: US sends missile warships, Navy SEALs to massive war games off Ukraine coast
The billion-pound destroyers were meant to revolutionize naval warfare with greater anti-aircraft and anti-missile clout, becoming a backbone of the Royal Navy in the next decades.
The Turkish Navy's 'Yildirim' is a Yavuz-class frigate designed in Germany. Also a part of NSMG2, it is armed with Harpoon anti-ship missiles as well as air defense weapons systems.
The two NATO vessels arrived in Odessa just several days after the US, Ukraine and 14 other nations deployed warships, combat aircraft and special operations teams for the 'Sea Breeze 2017' exercise off the Ukrainian coast.
Notably, the US Navy sent its Ticonderoga-class guided-missile cruiser 'USS Hue City' and the Arleigh Burke-class guided-missile destroyer 'USS Carney,' along with a P-8A Poseidon patrol aircraft, the Sixth Fleet said in a press release.
Moscow has long objected to NATO's large-scale war games near Russia's borders, which intensified after the March 2014 referendum in which Crimea opted to reunite with mainland Russia.
In the meantime, a top US commander alleged that the Russia-Belarus drills Zapad 2017, planned for September, could be a "Trojan horse" for Europe.
"People are worried, this is a Trojan horse. They say, 'We're just doing an exercise,' and then all of a sudden they've moved all these people and capabilities somewhere," Lieutenant-General Ben Hodges, commander of US Army forces in Europe, told Reuters.
Minsk and Moscow refuted the allegations, pointing at NATO's ongoing buildup in Eastern Europe. Last Wednesday, Russian Envoy to NATO Aleksandr Grushko said that "propaganda stories" on Zapad 2017 are caused by the NATO military buildup on the eastern flank.
In turn, Belarusian Defense Minister Andrey Ravkov stressed that Zapad 2017 is far smaller than certain NATO war games in Eastern Europe, including the Anaconda 2016 exercise in Poland which involved over 30,000 troops and hundreds of armored vehicles.
"While Anaconda 2016 has not caused hysteria among us, we were receptive to the past exercise," despite the fact that it had an "obvious hostile nature," Ravkov told TASS. He added that international organizations, including the UN, NATO, and the OSCE, as well as more than 80 foreign observers, are invited to the Zapad drills as there is "nothing to conceal."
You can share this story on social media: