'Gun them down. Give no mercy': Indonesian president channels inner Duterte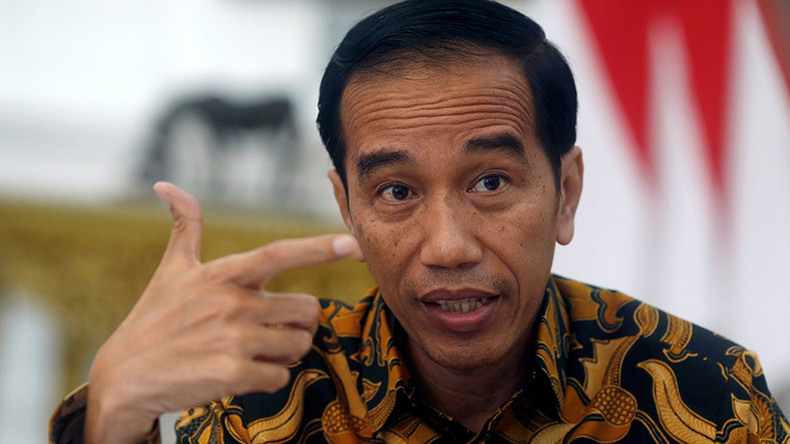 Indonesian President Joko Widodo has ordered police officers to shoot drug dealers in the country if they attempt to resist arrest, drawing immediate comparisons with his Filipino counterpart, Rodrigo Duterte.
"I have told you, just be firm, especially with foreign drug dealers who enter the country and resist [arrest]. Gun them down. Give no mercy," The Jakarta Post reports Widodo as saying during a speech Friday.
The heavy metal loving president gave the order because he believes his country is facing an "emergency" when it comes to drug trafficking.
"We are indeed in an emergency situation in dealing with drug trafficking," he said.
His controversial remarks echo those of Duterte who, upon being elected, launched a brutal crackdown on suspected drug dealers in the country, which to date, has reportedly left thousands dead.
In March, Duterte issue an emphatic warning to drug dealers, "You will die."
"Either you kill me or I kill you," he added. "I am committed to stop drugs before I get out."
Indonesia is known for it's tough drug laws, which often end in those convicted paying the ultimate price. Widodo has been criticized for ordering the deaths of convicted drug traffickers.
Indonesia has executed 18 people for drug trafficking since Widodo assumed office in 2014. Australians Myuran Sukumaran, 33, and Andrew Chan, 31, were among eight convicted smugglers who were killed by firing squad on 'Execution Island' in April, 2015.
Friday's order of 'Give no mercy' came a week after Indonesian police shot dead a Taiwanese man in a town near the capital Jakarta. The man was allegedly part of a group trying to smuggle one tonne of crystal methamphetamine into the country.
READ MORE: 'I feel like giving up': Death row Brit fears she's next after Bali pair executed
After the shooting, Indonesian National Police chief Tito Karnavian said he ordered his officers not to hesitate in gunning down those attempting to resist arrest.
"On this occasion, we want to emphasize that the police would act firmly and toughly, especially against the foreign [drug dealers]. I even told [officers] to act by 'custom,' which means if they resist [arrest], shoot. In this case, one Taiwanese was shot dead," he said.
You can share this story on social media: