'I'm scared & shocked': Eyewitness of Aegean earthquake reveals dramatic aftermath (PHOTOS, VIDEOS)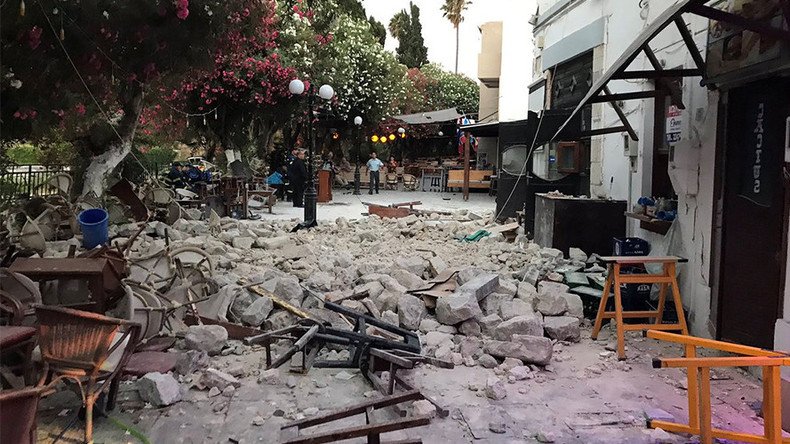 Dramatic videos and images shared via social media show the aftermath of the powerful earthquake in the Aegean Sea and the ordeal facing frightened tourists. Multiple tremors continue to shake the epicenter between Turkey and the Greek Islands.
Locals and tourists alike fled to higher ground amid tsunami fears, with many holidaymakers spending the night sleeping outdoors as a precaution against aftershocks.
"I was in a small room getting ready to go to sleep when the bed started shaking really violent, I couldn't even stand up to go out," eyewitness Angie Castellanos Guzmán told RT.
"The electricity was on and off. On the stairs, the building was still shaking really bad and other people were also trying to get out."
"We saw people coming running from the beach screaming in Greek that the water was coming."
"I went into town and found out that the sea came in at least 100 meters (328 ft)."
"I'm still scared and somehow in shock," Castellanos said.
Turkey's disaster management agency AFAD reports a magnitude 6.3 earthquake with an epicenter roughly 11km (7 miles) from the village of Camlik. Other earthquake monitoring agencies report a magnitude 6.7 quake.
Dozens of tremors stuck in the aftermath.
Across the Aegean in Bodrum, Turkey, approximately 70 people were admitted to hospital with injuries sustained during the quake and subsequent evacuation.
This is the second earthquake measuring magnitude six or higher in the Aegean Sea in as many months.
READ MORE: 6.3 earthquake strikes Aegean Sea, 1 person killed on Lesbos (PHOTOS, VIDEOS)
"Our people should know that aftershocks are continuing, so they should refrain from entering damaged or vulnerable structures," Mehmet Halis Bilden, head of Turkey's Disaster and Emergency Management agency AFAD tweeted.
The region experiences frequent seismic activity, often with disastrous consequences.
In 2011, a 7.2 earthquake killed 600 people in the eastern Turkish province of Van.
In 1999, twin earthquakes claimed 20,000 lives in Turkey's densely populated northwestern region, with another earthquake killing 143 people in Greece.
You can share this story on social media: