Disgraced Buddhist monk charged with child rape in Thai court after extradition from US
Published time: 20 Jul, 2017 21:40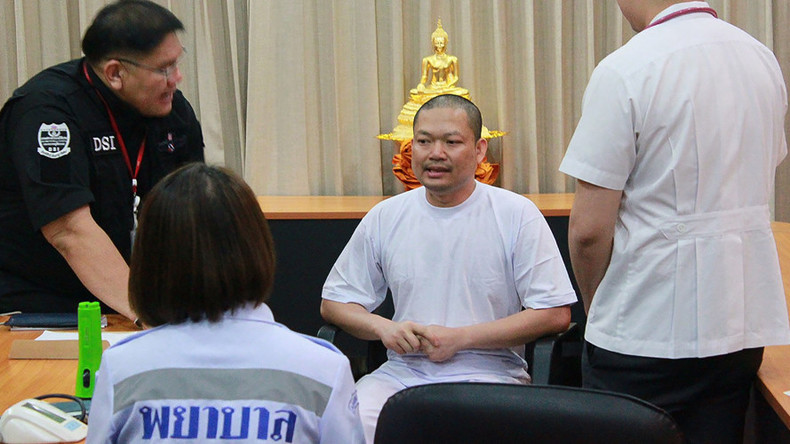 A former Buddhist monk has been charged with the rape of an underage girl, money laundering and fraud by a Thai court following his extradition from the US to Thailand.
The so-called 'jet-set monk,' Wiraphon Sukphon, 37, faces a total of five charges including the rape of a minor under 15 years of age, which is punishable by up to 20 years in prison.
He allegedly fathered a child with the girl almost a decade ago reports Channel News Asia.
"The Attorney-General will indict Sukphon on Thursday and advise the court to oppose bail because he poses a flight risk," Somuk Siengkong, the Attorney-General spokesman told reporters as cited by The New Straits Times.
Sukphon landed at Suvaranabhumi Airport Wednesday night wearing the saffron robes associated with the Buddhist faith, however, the Sangha Council of Thailand previously defrocked him in absentia.
In 2013, tabloids dubbed him the 'jet-set monk' after footage emerged of Sukphon and two other monks travelling on a private jet wearing designer sunglasses and carrying Louis Vuitton handbags.
He established an unofficial Buddhist teaching center in California shortly after fleeing Thailand earlier that year.
US authorities seized $770,000 of his assets including a Porsche and a Mercedes Benz. He also reportedly held 41 bank accounts, all of which were frozen.
READ MORE: Top Thai human rights lawyer faces 150 years in prison for 'royal insult'
He lived in the US under the pseudonym 'Luang Pu Nenkham,' the name of a famous monk who allegedly performed miracles.
Sukphon has refused to chant the Pali phrase which marks a person's official exit from the Buddhist monkhood but he has agreed to change into civilian clothing, reports The Nation.
The ruling Thai junta recently began trials of smart ID cards for members of the Buddhist clergy to track criminal offences carried out by people using the orange robes for their own personal gain according to The New Straits Times.