Danish anti-Islamization group plays Muslim 'prayer call' to wake up city mayor (VIDEO)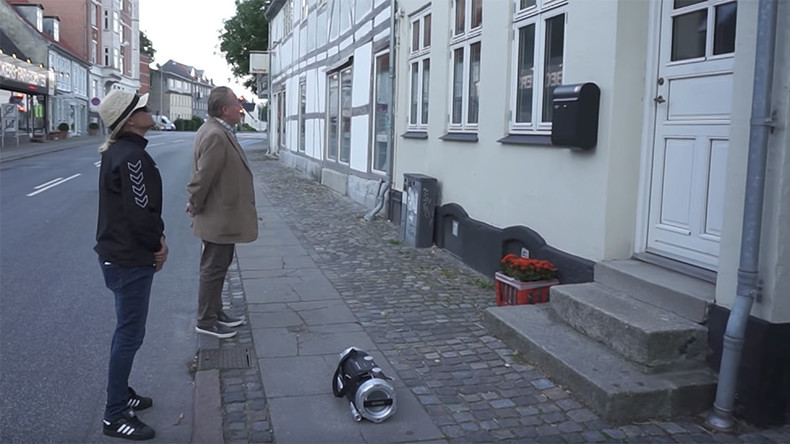 The mayor of the Danish city of Roskilde was woken up by music imitating the Islamic call to prayer. The local anti-Muslim activists who played it outside the mayor's home said the act was to oppose the building of a mosque in the city.
Members from the 'Stop the Islamization of Denmark' (SIAD) group paid a visit to Joy Morgensen, mayor of Roskilde, after she promoted the construction of a new mosque in the city, which plans to have minarets used for calls to prayer, according to the Ekstra Bladet media outlet.
The anti-Muslim activists set up loudspeakers near Morgensen's doorstep, playing what was meant to sound like the traditional Muslim call to prayer.
In Islamic tradition, the adhan is called out from mosques five times a day, traditionally from a minaret, to summon Muslims for mandatory worship. The first call typically starts at 5.00 in the morning, the time the activists came to the mayor's home.
"We thought that the mayor should taste her own medicine," Anders Gravers Pedersen, the founder of SIAD, told RT.
"She wants these minarets to spew the prayers, we think she doesn't know what she's doing. We came at five o'clock in the morning and played it for her," he said. He added he is not interested in talking to the mayor and promised to stage similar acts for Danish government officials.
Roskilde already houses a mosque located in a converted garage building, and work to construct a new one at the same site is underway. According to Ekstra Bladet, the mosque will have five domes and two minarets.
Plans to build the mosque sparked debate among local communities, with Morgensen defending diversity and interfaith dialogue.
"You want to convince me or just find a solution? Please contact me properly. I was available in public and at city hall, but 5am, at my private residence is not my choice for being available for appointment," Morgensen said in a comment to RT.
The city of Roskilde lies 30km west of Danish capital Copenhagen on the island of Zealand. It is known for its UNESCO-listed Gothic cathedral housing the tombs of 39 Danish monarchs.
Denmark, home to approximately 200,000 Muslims, has recently become the first Nordic country to open an all-female mosque aimed at countering long-established stereotypes leading to a male-dominated worshipping.
"We have normalized patriarchal structures in our religious institutions. Not just in Islam, but also within Judaism and Christianity and other religions. And we would like to challenge that," Sherin Khankan, the female mosque advocate and one of the imams who will be leading prayers, told AFP.
Other Danish mosques appear to promote much more extreme views, according to local media.
In February last year, the documentary 'Mosques behind the Veil', broadcast on state-run TV, filmed a leading preacher of a mosque in Aarhus who advocated death to adulterers, infidels and apostates.