'Stone women! Kill apostates!' Denmark's pro-ISIS mosque in new controversy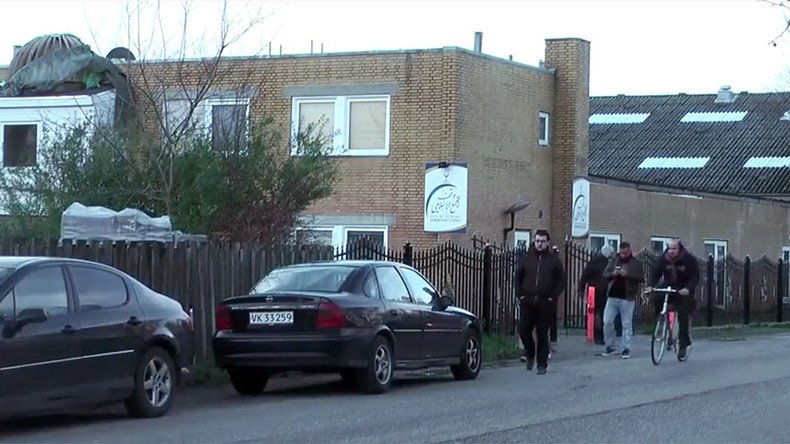 A leading preacher at a mosque in the Danish city of Aarhus has been filmed advocating death to adulterers, infidels and apostates. Authorities have repeatedly failed to shut down the mosque, which has supplied more ISIS recruits than any other in Denmark.
Filmed for the documentary 'Mosques behind the Veil', broadcast on the state-funded TV2 channel, the hidden-camera footage shows a room, in which the bearded imam Abu Bilal Ismail is holding a lesson in front of a blackboard.
"If a married or divorced women engages in fornication, and she is not a virgin, she should be stoned to death. If someone violates their marriage, either man or woman, they commit adultery and they should be killed by stoning. If the woman is a virgin, what should the punishment be?" asks Ismail.
"The lash," replies a chorus of high-pitched voices. Later footage shows that the preacher is addressing a room of women, with their small children playing, and sat at their feet.
Ismail then moves onto the treatment of apostates and non-Muslims.
"Anyone who leaves the religion, becomes an apostate, must be killed. If someone does not believe, if he is stubborn and refuses guidance, he must be slain," continues Ismail. "An infidel who kills a Muslim, deserves to die."
The man giving the Sharia lesson is no stranger to the authorities. Last year, Ismail, who has given sermons all over Europe, was fined 75,000 Danish Krone ($10,900) for an incitement to "kill the Zionist Jews" in Berlin back in 2014. He has explained that he was "misunderstood," and that he merely called for "Allah to smite them."
Meanwhile, the Grimhoj mosque, where the footage was shot, is the most notorious in the country. Out of 100 Danes who have been confirmed as Islamic State fighters in Syria and Iraq, more than 20 were regular worshipers at the nondescript yellow-brick building in Denmark's second city.
Its chairman Oussam El-Saadi also repeatedly came out in support of Islamic State's actions in the Middle East, saying that he "hoped that it would come out on top" and that "Muslims deserve to have their own state in the world, without interference from the West."
When confronted with the latest footage, before the program was broadcast, El-Saadi accused the reporters of entrapment, and claimed that Ismail was exercising his right to free speech.
"When the spy asks him about Sharia, he has to tell the truth. He cannot lie about our religion. But we are Danes, so we follow Danish law. So, the passages about stoning and flogging do not apply here," reassured El-Saadi.
The police department of East Jutland, the region where the mosque is located, has promised to examine the videos for possible violations of the law.
Politicians have also piled in with criticism.
"What is so shocking is that there are so many cases involving this mosque and that they just keep coming. That is almost the worst thing – that they haven't learned anything and still practise these types of things and encourage this Stone Age behavior," said Marcus Knuth, from the center-right Venstre party, which since last year has been leading a minority coalition, with the help of the anti-immigrant and anti-Muslim Danish People's Party.
"These statements I have seen and heard so far over the line that there must be strong action against this. This calls for reactions here and now. The police is a central part, but we must also have the key ministers play their part. This should not take place in Denmark," said Trine Bramsen, of the center-left Social Democrats.
But practical efforts to shut down the mosque have failed, with Aarhus council saying "the closure will just confirm among the young attendees that democracy is only for the majority."
A year ago, East Jutland police also publicly congratulated Grimhoj mosque for no longer "saying it is a personal choice whether to go fight in Syria, but instead warning worshipers against it."
You can share this story on social media: