Police close off Temple Mount to Jews over rules violation amid tensions with Palestinians
Police have closed off the Temple Mount to Jewish worshipers, after a group of Jewish visitors broke the rules of conduct. It follows days of clashes between Palestinians and Israeli police near the site, which is holy to both Jews and Muslims.
Jerusalem District Police Commander Major-General Yoram Halevy ordered that the Temple Mount be closed to Jewish worshipers and visitors on Wednesday morning.
The order came after a group of Jewish visitors breached the rules of conduct by bringing sacred books to the site and trying to pray there. After one of the individuals was warned, another took out a holy book and the group was removed by security forces, Haaretz reported.
The Temple Mount, known as the Ḥaram al-Sharif (Noble Sanctuary) to Muslims, has been the subject of violent clashes since Sunday, with Palestinians protesting Israel's placement of metal detectors at entrances.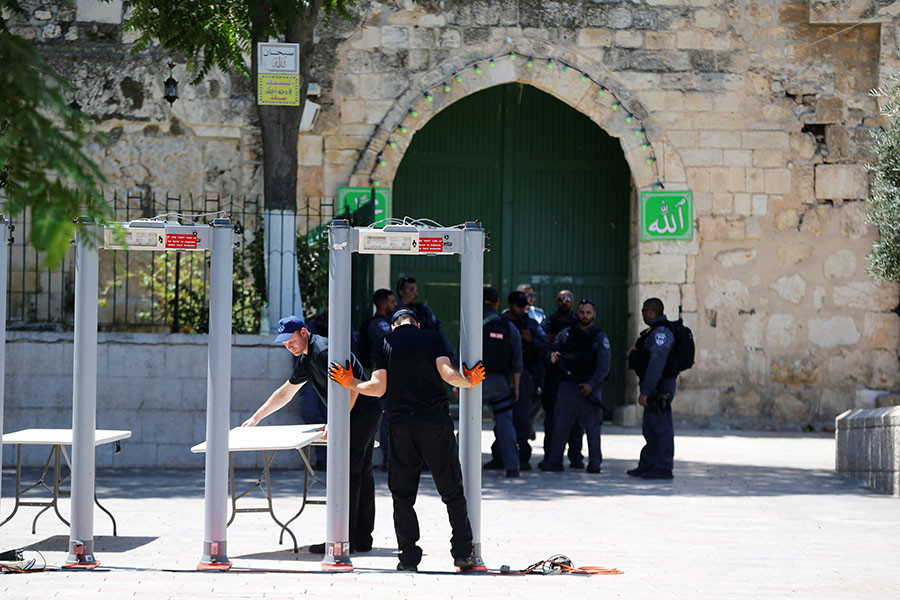 The security measure was implemented after two Israeli border police officers were killed in an attack at the site on Friday.
A Palestinian government statement called the measure "null and void" and a "violation of the sanctity of the Al Aqsa Mosque."
READ MORE: Scuffles erupt outside reopened Temple Mount as Palestinians decry new Israeli security measures
A third night of clashes took place at a gate outside the Temple Mount on Tuesday night, with Israeli police stating that a group of Muslim worshipers "started throwing rocks and bottles" at officers who were stationed in the Old City, the Times of Israel reported.
Officers used rubber bullets and stun grenades to break up the clashes, the news outlet added, citing police.
Ruptly footage appears to show people running away from the area.
The Palestinian Red Crescent said that 34 people were injured, including 14 that needed hospitalization. One person suffered a serious chest injury, a spokesperson said.
Two officers were lightly injured in the clashes, according to Israeli police.
Palestinian demonstrators are expected to hold additional protests over the placement of metal detectors on Wednesday, in what the Fatah party, led by Palestinian Authority President Mahmoud Abbas, has dubbed a "Day of Rage."
The planned demonstrations prompted Jerusalem Mayor Nir Barkat to remind demonstrators that their anger should be directed elsewhere.
"I suggest to the demonstrators to turn their rage at the terrorists who created the need for this [the placement of metal detectors], and not the police," he wrote on Facebook.
The Temple Mount is holy to Jews as the site of their ancient temple, and to Muslims as the site of where the Prophet Muhammad is believed to have risen.