2 Israeli police officers confirmed dead following Temple Mount shooting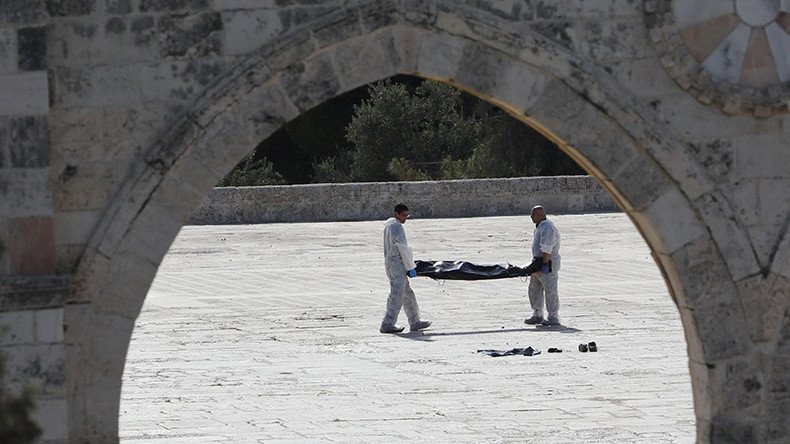 Two police officers were fatally shot during an attack at the Temple Mount in Jerusalem Friday morning. Police Chief Roni Alsheich confirmed the deaths following the incident involving three assailants, who have since been killed.
The two officers were amongst three people initially injured. Three armed assailants were then pursued, shot and killed by police.
BREAKING: Israel's police chief says two officers killed in Palestinian attack near Jerusalem shrine.

— The Associated Press (@AP) July 14, 2017
The gunmen, reported by Reuters to be Arab-Israeli, arrived at the site which is holy to both Jews and Muslims, and made their way towards the Lions Gate in the Old City. "When they saw policemen they shot towards them and then escaped towards one of the mosques in the Temple Mount compound," police spokeswoman Luba Simri.
According to Simri three firearms were found on the bodies of the attackers.
The officers were named by authorities as Hail Stawi, 30, and Kaamil Snaan, 22.
Police officer murdered in this mornings attack in old city Temple Mount, Hail Stawi age 30 from the north of Israel. May he rest in peace. pic.twitter.com/TBGVpUU3rn

— Micky Rosenfeld (@MickyRosenfeld) July 14, 2017
A spokesperson from Hamas praised the operation as "heroic" in a statement.
Authorities shut down the area following the attack, blocking access to the Aqsa Mosque. Palestinian Grand Mufti of Jerusalem, Mohammad Hussein encouraged Muslims to defy the shutdown, telling Reuters "We have urged our Palestinian people to rush to al Aqsa today and every day to hold their prayers."
Hussein was briefly detained by Israeli police, but was later released. Israeli Prime Minister Benjamin Netanyahu, said the area, which can be accessed but not prayed at by Jews, will continue to be shared by both communities.
In a phone call to Netanyahu, Palestinian President Mahmoud Abbas condemned the attack. According to Palestinian news agency WAFA, Abbas urged Netanyahu to reopen access to the al-Aqsa Mosque.
The attackers' identities have not yet been released.
Friday prayers at the site were cancelled for the first time in years, according to Haaretz.
Israeli police posted a picture of the attackers' alleged weapons. Police say that "the terrorists seized" them, but did not disclose any further details.
2 רובי קרל גוסטב ואקדח נתפסו ברשות המחבלים. ישנם מספר פצועים במצב קשה. מפקד המחוז הורה על סגירת הר הבית וכי לא יתקיימו היום תפילות במקום pic.twitter.com/PpcIKSqLvq

— משטרת ישראל (@IL_police) July 14, 2017
Israeli Public Security Minister Gilad Erdan said the assault is still being investigated, according to Haaretz.
"The attack today is a difficult and severe event in which red lines were crossed. The attack is still under investigation and will require of us to review all security arrangements at the [Temple] Mount and its surroundings," the minister said.
"I call on all public leaders to act to calm the situation and preserve the quiet in Jerusalem."
In June, a 23-year-old Israeli policewoman was killed and four other people were injured after simultaneous knife and gun assaults in Jerusalem. Although Islamic State (IS, formerly ISIS/ISIL) claimed responsibility for the attack, a Hamas spokesman said that it was carried out by "two Palestinians from the Popular Front for the Liberation of Palestine and a third from Hamas."
READ MORE: Israeli policewoman killed in ISIS-claimed stabbing attacks in Jerusalem
In May, Israeli police shot a 16-year-old Palestinian girl after what they say was an attempted knife attack at Damascus Gate in Jerusalem. However, the girl did not pose a lethal threat, according to witness accounts.
READ MORE: Israeli police shoot 16yo girl after alleged knife attack in Jerusalem
You can share this story on social media: