Scuffles erupt outside reopened Temple Mount as Palestinians decry new Israeli security measures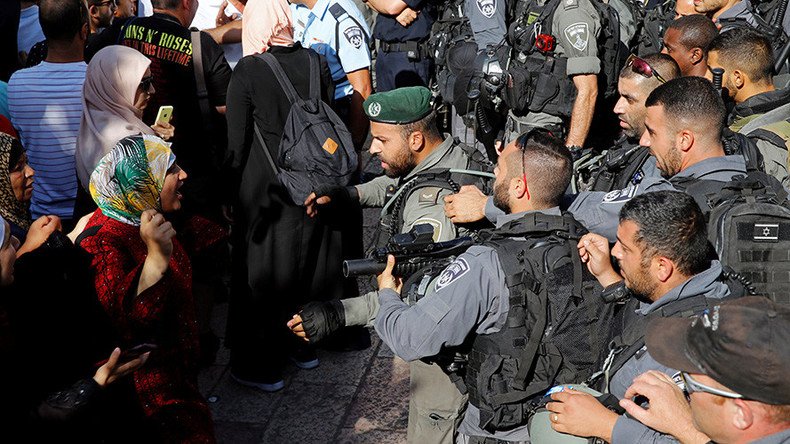 The reopening of Jerusalem's Temple Mount, which has been closed since a shooting attack Friday, has led to more tensions as Palestinians protested additional Israeli security measures on site, refusing to enter the compound.
On Sunday, Israeli authorities lifted the ban on worshippers entering the site – sacred to both Jews and Muslims after boosting security.
The Temple Mount or the al-Ḥaram al-Sharif (Noble Sanctuary) as referred to by Muslims was closed for the first time in decades after two Israeli police officers were shot dead by three Arab-Israeli attackers Friday. The assailants were then pursued, shot and killed by police.
Metal detectors and additional CCTV cameras were hurriedly installed to prevent weapons from being smuggled inside in the future.
Several knives were reportedly discovered at the compound when it was searched by the security forces over the weekend.
The Jerusalem Islamic Wakf, a Muslim religious body overseeing the compound, has urged the worshipers to refrain from entering the Temple Mount. It said Waqf staff wouldn't be returning to the compound as well, the Jerusalem Post reported.
"This is a severe violation of the status quo," Shikh Omar al-Qiswani, director of the al-Aqsa Mosque located at Temple Mount, said of the new security measures.
"We reject the changes imposed by the Israeli government… We will not enter through these metal detectors," al-Qiswani said, according to AFP.
The Palestinian Minister of Jerusalem, Adnan Husseini, called for security arrangements to be scaled back to the levels it were before the attack.
Friday's shooting "shouldn't be an excuse for making changes," Husseini said as cited by AP.
Israeli Knesset member for the Joint List alliance of Arab-dominated parties, Taleb Abu, said the move was "fanning the flames, and I see Israel as only the responsible cause of this situation."
"It's far more than breaching the status quo. The Israeli government is defiling the mosques. They took advantage of the situation to impose a complete control over the compound," Abu said.
Despite the reopening, several hundred Palestinians held their Sunday midday prayers outside Temple Mount in protest to the Israeli move.
The prayer eventually turned into a rally as the demonstrators chanted: "God is great!" and "Al-Aqsa belongs to the Muslims!"
The situation then escalated into violence, with police intervening to disperse around 300 people at the Gate of the Tribes (Bab al-Asbat) leading to the compound.
Locals told the Jerusalem Post that the outburst was provoked by four young Jewish women who provoked the demonstrators.
Their comments angered the Palestinians, with one of them throwing a bottle at the females.
READ MORE: Israel snubs UNESCO's Temple Mount resolution with ancient Jerusalem papyrus
The Red Crescent medic said that scuffles at the Gate of the Tribes led to four people being injured.
Since the closure, Israeli authorities have been under internal and international pressure to reopen Temple Mount, with Prime Minister Benjamin Netanyahu being forced to assure US President Donald Trump and Palestinian authorities that "the status quo will be preserved."
You can share this story on social media: