New-design MiG-35 makes air show debut at MAKS 2017 (VIDEO)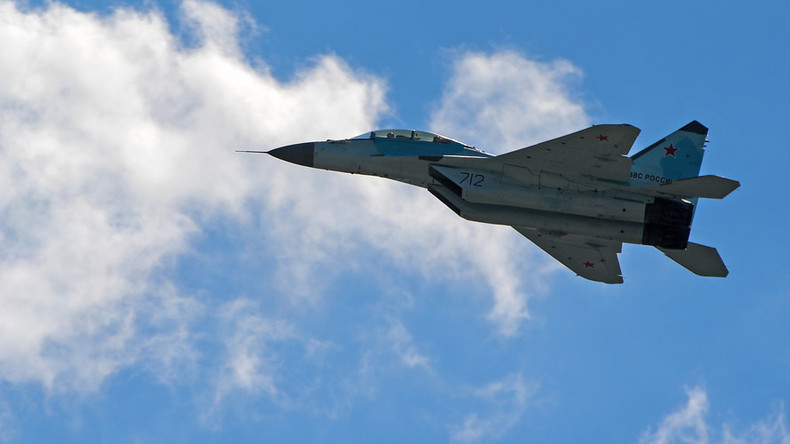 An overhauled MiG-35 multirole fighter has completed a successful demonstration flight at the MAKS 2017 Air Show outside Moscow, with Russian officials saying the first combat-ready plane will be delivered to the Air Forces next year.
"This is a new configuration, approaching 5th generation capabilities. It has new radar and reconnaissance capabilities. It's equipped with upgraded weapons, and a stealth covering that makes it invisible to the adversary. This is what makes this jet so attractive," MiG Corporation CEO Ilya Tarasenko told RT ahead of the flight.
The long-conceptualized successor to the 1980s stalwart MiG-29 made its maiden flight a decade ago, but has undergone several major modifications in a bid to improve its capabilities and make it more financially attractive to foreign buyers.
Its current version first flew last winter, and there had been announcements that it would only be displayed on the ground at Russia's biggest air show, before the flight was given a last-minute go ahead.
Following the demonstration, Deputy Defense Minister Yuri Borisov told the media that, if it successfully completed its test schedule this year, the MiG-35 would be ready in 2018.
Viktor Bondarev, Commander of the Russian Air Forces, told reporters that "the future belongs to this plane," and noted that it would be widely used for training a new generation of pilots – not least due to its cost and fuel efficiency.
In January, Bondarev said Russia was interested in buying as many as 170 of the warplanes, but added that the new model is particularly aimed at foreign markets.
At MAKS 2017, Tarasenko noted that around 30 countries are using various modifications of its predecessor, the MiG-29, and that "talks are already ongoing with potential buyers."
Tarasenko refused to name potential customers, but said it perked interest in "the markets of India, South East Asia, the Middle East, Africa and Latin America," noting that each plane, valued at about $40 million, is 20-25 percent cheaper than those of its rivals.
You can share this story on social media: