Trump Jr. scandal: Russian lawyer Veselnitskaya ready 'to share everything' with Senate
Russian attorney Natalia Veselnitskaya told RT she is ready to testify before the US Congress on her controversial meeting with Donald Trump Jr. during last year's presidential campaign in America.
The attorney, who met with Donald Trump Jr. during his father's campaign for the presidency, said she knows who was behind the "mass hysteria" related to the meeting.
She accuses Magnitsky Act lobbyist William Browder of masterminding the disinformation campaign, aiming to harm her as revenge for a recent defeat he suffered in a US court in at the hands of a team of lawyers that included Veselnitskaya.
"I have absolutely no doubt that this whole information [campaign] is being spun, encouraged and organized by that very man as revenge for the defeat he suffered in the court of the Southern State of New York in the 'Prevezon' company case," she said.
Veselnitskaya was one of the legal experts who represented Cyprus-based holding company Prevezon, owned by Russian businessman Denis Katsyv, in its defense against allegations of money laundering.
The case, which was launched in 2013, ended in a settlement in May this year with no admission of guilt by Prevezon.
"He wasn't able to convince the court with his lousy human tragedy that actually never happened, about the fate of a dead man – who he only learnt about after his death," Veselnitskaya said, referring to the 2009 death of Russian lawyer and auditor Sergey Magnitsky in a Moscow detention center.
Browder, the CEO of Hermitage Capital Investment company, is a big name in Russia, known mostly for his business dealings there in the 1990s and his economic crimes. He was also the boss of the late Magnitsky.
He has remained one of the main vocal opponents of the Kremlin, long after leaving Russia.
READ MORE: 'Inane nonsense': Trump Jr. releases Russian lawyer meeting emails
Veselnitskaya also said that Browder and his team began spying on her before her meeting with Trump Jr.
"It's been revealed that Mr Browder and his team have been gathering information about my family," she told RT, adding that Browder's team "found photos of my house and sent them to Kyle Parker… a famous man in the House of Representatives, who worked for Mr Browder for many years – and not for any congressmen or congress as a whole."
An email reportedly containing a photo of Veselnitskaya's house was discovered in a trove of emails published online by an unidentified party. It was allegedly obtained from the account of a US State Department intelligence official tasked with monitoring Russia. The email was presumably sent by Browder to Parker on June 6, 2016.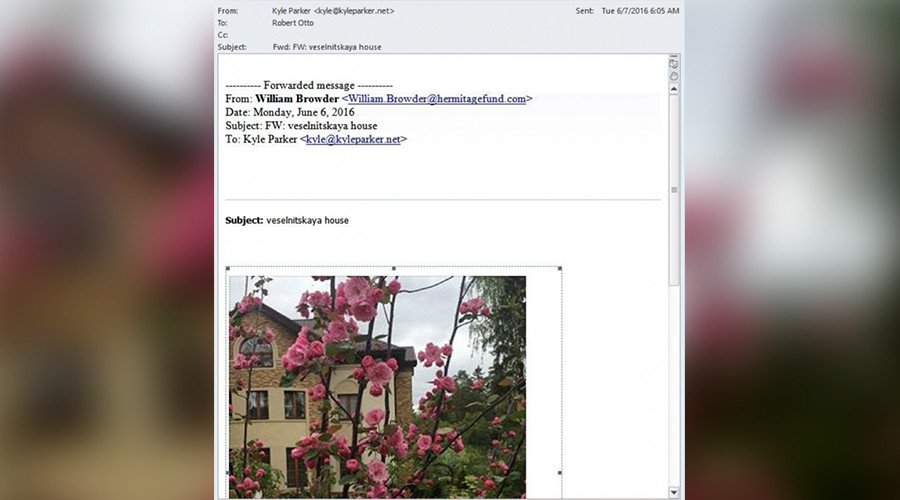 Veselnitskaya said the meeting with Trump Jr. was aimed at informing him about Browder and his actions.
"I am already tired of talking about it, but apparently nobody wants to hear. This was the story that I brought to Donald Trump Jr. I wanted him to know that Browder, a person who gave up his US citizenship, is trying to manipulate people in Congress," she said.
Browder, according to Veselnitskaya, used the meeting as ammunition to harm both her and the Kremlin.
Now Veselnitskaya is ready to testify to the Senate. Her only condition is that she receives security guarantees.
"If the Senate wishes to hear the real story, I will be happy to speak up and share everything I wanted to tell Mr. Trump," she added, referring to the economic crimes that Browder is suspected of in Russia.
"I will share everything I know about this situation when millions came into my country and billions left it – and nobody paid taxes."
Browder was sentenced in absentia to nine years in prison for tax evasion. According to the 2013 court verdict, Browder together with Magnitsky failed to pay over 552 million rubles in taxes (about US$16 million).
The businessman was also found guilty of illegally buying shares in the country's natural gas monopoly, Gazprom, costing Russia at least 3 billion rubles (US$100 million).
The Magnitsky Act is a 2012 law that allows the United States to seize assets from a number of alleged Russian human rights abusers, as well as barring them from entering the country. Russia retaliated by prohibiting American families from adopting Russian children.
You can share this story on social media: