Russian Prosecutor General names Browder as man behind latest smear campaign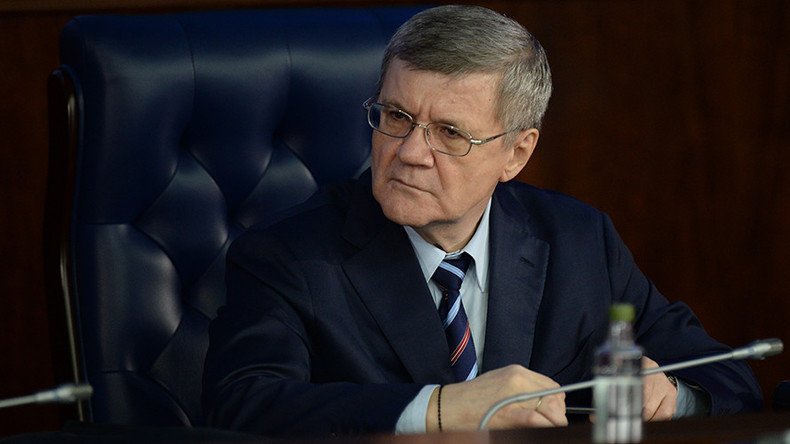 The Russian Prosecutor General has told the press that the recent web video accusing him of mafia ties was ordered and sponsored by the international investor William Browder in revenge for uncovering illegal financial schemes.
In a long letter published by Kommersant daily on Monday, Yury Chaika wrote that the film released by Aleksey Navalny's Foundation for Fighting Corruption was a very expensive project and therefore its sponsors must be "people with great financial resources." The prosecutor opined that due to the investigations into their illegal activities, these people must also hate Russia as a whole and Russian prosecutors in particular.
READ MORE: Prosecutor General dismisses report linking him to gang of murderers as 'lies' and 'hatchet job'

"Of course, there are a lot of people who are unhappy with the results of our work. But I think that this particular film has been ordered by a particular person with powerful people backing him. Since 2004, law enforcers have been investigating the criminal embezzlement that drained Russia of tremendous sums of money between 1996 and 2006. These schemes were masterminded by US special services and organized by the US citizen who is now a subject of the United Kingdom, William Browder," Chaika wrote. "This person knows about our probes and he fears them," he added.
The prosecutor general explained that the embezzlement Browder was involved in concerned various schemes to bypass a Russian presidential decree that banned foreign companies and citizens from purchasing equities in Gazprom. These schemes allowed Browder to gain a seven-percent stake in the company and start blackmailing its top managers in order to get his representatives on to the board.
"I think you can imagine what could have happened if he had succeeded with this operation. All documents, including classified ones, of the country's largest corporation would have become available to foreign special services and to Gazprom's American competitors," Chaika wrote in the letter. "This created a real threat to national security and to the foundations of the national economy. Luckily, these plans didn't work out, due to reasons that Browder had no control over."
The prosecutor reminded that a court in Russia has already convicted William Browder of large-scale tax evasion and sentenced him to 10 years in absentia. He added that the investigation into financial crimes was ongoing and had been recently intensified. "The probe is taking place in several countries and it will definitely result in extremely unwanted consequences for Browder, and not for him alone."
Chaika also revealed that several of Browder's business partners in Russia had died under controversial circumstances. This had caused two people who had participated in the illegal schemes to turn themselves in to Russian law enforcement bodies. These people have already given testimony revealing Browder's crimes, he said.
READ MORE: Court finds Magnitsky, Browder guilty of tax evasion
The prosecutor also referred to a US court process between William Browder and a Russian businessman, in which the international investor refused to openly give testimony saying that this could compromise 20 years' work. "He does not want to disclose his agents in Russia and I am convinced that he is now conducting the campaign against us through these very people."
Aleksey Navalny commented on Chaika's statement saying that he could not understand William Browder's connection with the case. He suggested the sole purpose of the letter was to distract public attention from the facts revealed by the film.
William Browder is known for his role in the so called Magnitsky Case. Sergey Magnitsky was a lawyer who worked for Browder's investment company Hermitage Capital Management. He was arrested on charges of alleged tax evasion, and died of a heart attack while in a Moscow pre-trial detention facility in November 2009. After his death, Hermitage Capital said the lawyer's death was the result of deliberate maltreatment or even murder, because Magnitsky had allegedly threatened to reveal criminal schemes involving Russian law enforcers. The company eventually influenced the adoption of the so-called Magnitsky Act in the United States –sanctions against about 60 Russian nationals who, according to Hermitage Capital, were linked to Magnitsky's death. Later, the bill was expanded so that now it punishes, with an entry ban and asset freeze, anyone who according to the US commits human rights violations in Russia.
READ MORE: 'Browder had everything to gain from Magnitsky's death'
Russia reciprocated with a bill that introduced similar sanctions against US officials implicated in violating the rights of Russian citizens and human rights in general.
You can share this story on social media: