Afghan civilian death toll over last 6 months worst since records began in 2009
Published time: 17 Jul, 2017 22:53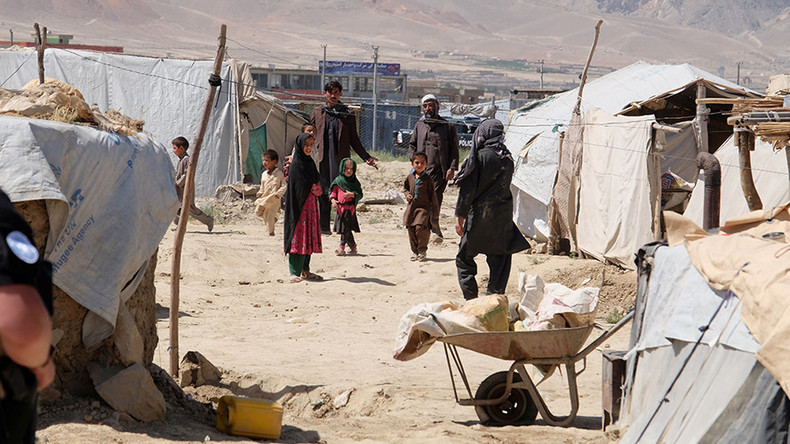 The number of civilian deaths has peaked in Afghanistan over the last six months, the UN Assistance Mission in Afghanistan (UNAMA) has said in a new report, calling the death toll the worst since records began in 2009.
According to the UNAMA mid-year report, 1,662 civilians were killed and over 3,500 wounded in Afghanistan.
"In the first half of 2017, more civilian deaths and injury from suicide and complex attacks were documented by UNAMA than any previous six month period since the mission began systematic documentation of civilian casualties in 2009," the report said.
The capital, Kabul, has become the most dangerous place in the country, as it accounted for 20 percent of the death toll, the paper said.
Nearly half of the country's 34 provinces also saw a rise in violence during the last six months.
UNAMA has blamed the majority of civilian casualties on the Taliban, Islamic State (IS, formerly ISIS/ISIL) and other anti-government groups and their "unlawful use of IED [improvised explosive device] tactics… in civilian-populated areas – particularly suicide bombs and pressure-plate devices."
The report highlighted a spike in coordinated attacks, which involved not one, but several perpetrators.
Such carefully planned attacks by terrorists took the lives of 259 people and injured 892 others, showing a 15 percent increase compared to the first half of 2016.
The deadliest bombing took place in Kabul in late May, when a truck exploded during the morning rush hour killing 92 people and injuring 491 others, according to UNAMA.
The UN body said it was the worst such attack in Afghanistan since 2001 when the US invasion of the country ended.
Pro-government forces were responsible for 327 civilian deaths and 618 injuries, caused "indirectly during ground fighting with Anti-Government Elements, weapons released or fired during aerial operations," the report added.
UNAMA said the figures represented a 21 percent decrease compared to last year and welcomed the development.
The paper, however, sounded the alarm over an increase in deaths among women and children in Afghanistan.
READ MORE: ISIS shifting focus to Afghanistan, threatens Central Asia – CIS anti-terrorism chief
The number of female casualties rose by 23 percent, with 174 women killed and 462 injured during the last six months.
436 children also died since the start of a year, representing a nine percent increase, compared to 2016, UNAMA said.
The deaths among women and children are mainly caused by IEDs and airstrikes in populated areas, it added.
UN High Commissioner for Human Rights, Zeid Ra'ad Al Hussein, called the data presented in the report "horrifying."
READ MORE: Taliban says foreign troops must go before peace talks as US plans 4,000-strong surge
The numbers "can never fully convey the sheer human suffering of the people of Afghanistan. Each one of these casualty figures reflects a broken family, unimaginable trauma and suffering, and the brutal violation of people's human rights," he said.
The High Commissioner stressed that many Afghans suffered "psychological trauma" and "lasting damage to their health, education and livelihoods," urging the situation in the country "not be overlooked."