S. Korea proposes 'rare' military talks with Pyongyang to 'ease tensions' on peninsula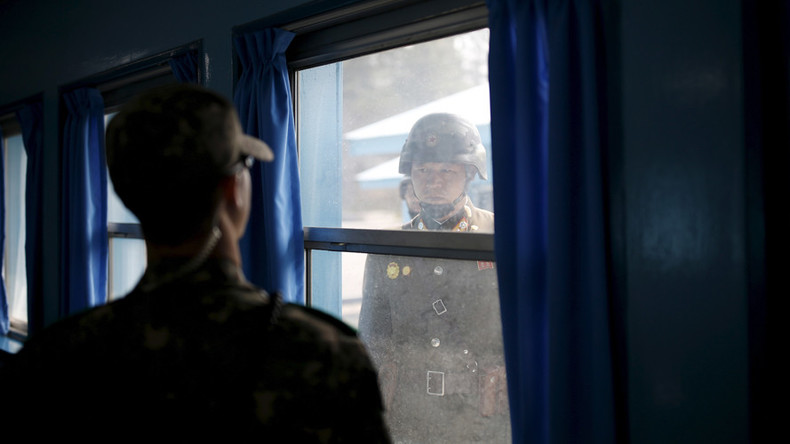 Seoul has proposed rare military talks to North Korea for as early as this week, saying that the negotiations may "ease tensions" and establish long-awaited peace on the Korean Peninsula, where the states are technically still at war with each other.
"Talks and cooperation between the two Koreas to ease tension and bring about peace on the Korean Peninsula will be instrumental for pushing forth a mutual, virtuous cycle for inter-Korea relations and North Korea's nuclear problem," the South's Unification Minister Cho Myoung-gyon said at a news briefing on Monday, as cited by Reuters.
Seoul "has no hostile policy toward North Korea," according to the South's unification minister.
"…As [President Moon Jae-in] clearly stated in his Berlin doctrine that he will never pursue the collapse of North Korea and an absorption-based reunification," Cho said in a statement, as cited by Yonhap.
The South Korean Defense Ministry proposed negotiations with Pyongyang on July 21. The talks may be held at Tongilgak, a building at the Panmunjom truce village in North Korea, which was previously used for negotiations between the sides.
The last time talks between Seoul and Pyongyang took place, was in December 2015.
The South's Red Cross offered to hold talks between the sides on August 1, hoping for "a positive response" from the North. The meeting was proposed at the same venue, near the de facto border between the Koreas.
Japan has meanwhile criticized Seoul's initiative by saying the priority should be on exerting more pressure on Pyongyang, particularly through sanctions.
"This is not a time for dialogue. This is a time for pressure," Japan's Foreign Ministry spokesman Norio Maruyama told reporters in New York, as cited by AFP. "This is a time to raise pressure in order to conduct a serious dialogue," he added.
Millions of Koreans were divided by the 1950-53 war and many relatives have died without seeing each other since the separation.
Some 66,000 South Koreans are still trying to contact their relatives in the North, according to Reuters.
South Korean President Moon Jae-in, who took office in May this year, has repeatedly vowed to offer a more active diplomatic approach towards North Korea centered on more open dialogue with Pyongyang.
READ MORE: New president wants South Korea to learn to say 'no to America,' improve relations with Kim Jong-un
The former human rights lawyer has even said he was ready to travel to his isolated neighbor if it meant ending the decades-long standoff.
"I am willing to go anywhere for the peace of the Korean Peninsula if needed," Moon said at his formal oath-taking ceremony.
Tensions have been rising on the Korean Peninsula, with the North repeatedly staging missile tests. Pyongyang has been under UN sanctions since 2006, when the Security Council demanded that it cease nuclear testing and banned the provision of large-scale arms, nuclear technology and related training to Pyongyang.
Earlier in July, North Korea claimed to have test-launched a Hwasong-14 missile which it said flew 933km in 39 minutes, reaching an altitude of 2,802km. The South, however, doubted that Pyongyang may possess such advanced technology.
You can share this story on social media: