Message from the president: Erdogan's voice heard before dial tone on anniversary of failed coup
Published time: 16 Jul, 2017 13:42
Edited time: 16 Jul, 2017 14:58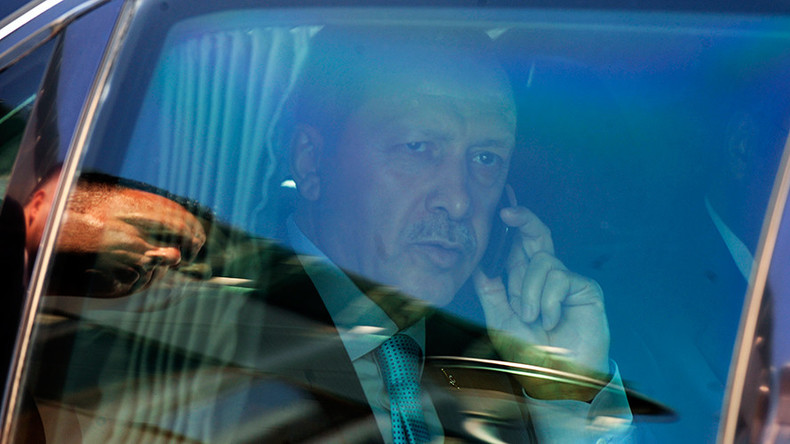 Turkish mobile networks users making calls on the anniversary of the failed 2016 coup attempt were surprised to hear President Erdogan's voice before the dial tone, hailing the martyrs who sacrificed their lives for "democracy and unity."
Turkish President Recep Tayyip Erdogan's short speech could be heard on Turkey's largest mobile network, Turkcell, as well as other operators such as Turk Telekom and Vodafone, according to Hurriyet daily.
"As President, I render congratulations on the July 15 National Day of Democracy and Unity and wish the martyrs mercy and the heroes [who suppressed the coup] health and wellbeing," said the message from Erdogan.
The idea of spreading Erdogan's words on the anniversary of the coup defeat came from Turkey's Information Technologies and Communication Authority (ICTA), which oversees internet and mobile phone networks, the newspaper said.
"We are serving our nation, our national will, our country and our people in face of the threat," said Omer Fatih Sayan, the ICTA head. He added that it was his agency which enabled President Erdogan to address the nation via video link on the day of the coup.
July 15 was declared a national holiday called 'Democracy and National Unity Day' following the failed coup.
Earlier, Erdogan gave a speech on the Bosphorus Bridge in Istanbul, where civilians confronted pro-coup soldiers last year. "I am grateful to all members of my nation who defended their country," the Turkish leader said.
He also threatened to "chop off the heads" of traitors, adding that he previously vowed to sign any bill passed by parliament to restore capital punishment in Turkey
The Turkish government blamed the coup attempt on Fethullah Gulen, a self-exiled Muslim cleric, and his henchmen, though no hard evidence of his involvement has been presented.
Following the dramatic events, Ankara launched a massive crackdown on alleged coup supporters, as well as opposition figures and journalists, arresting around 50,000 people and suspending more than 150,000 civil servants, police officers, and soldiers.
A conspiracy theory claiming that the coup attempt was "controlled" by Ankara – as a pretext for Erdogan to silence dissent and get rid of his opponents – has been vehemently denied and rejected by the government.