'Europe's darkest hours': Soros spokesman bashes Orban's anti-migration campaign billboards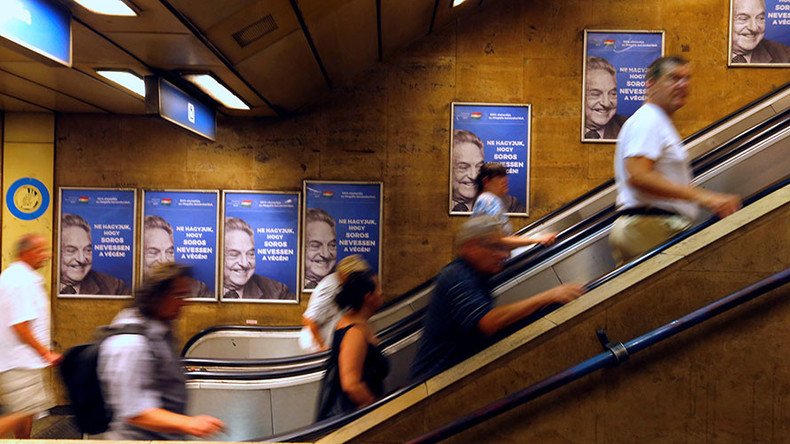 A spokesman for George Soros has slammed campaign billboards and television ads from Hungarian Prime Minister Viktor Orban's party that feature a picture of the billionaire financier, saying they are "reminiscent of Europe's darkest hours."
The billboards and ads from Prime Minister Viktor Orban's party campaign feature a smiling Soros with the words "Don't let Soros have the last laugh."
Soros – a Hungarian-born Jew who emigrated to the US and UK after World War II and made a fortune – has long been a vocal critic of Orban's right-wing policies and supports open-borders for Europe.
Some of Orban's campaign billboards have been vandalized with graffiti reading "stinking Jew."
Michael Vachon, a spokesperson for Soros, has called the campaign "anti-European," saying it misrepresents the billionaire's views on migration.
"Last week the Fidesz-led government launched a nationwide billboard and television advertising campaign reminiscent of Europe's darkest hours," Vachon said, as quoted by Reuters.
"The Hungarian regime's xenophobia and demonization of refugees are anti-European," he said.
His comments come just days after Human Rights Watch (HRW) campaigner Lydia Gall stated that the billboards evoke memories of Nazi posters during the Second World War showing 'The Laughing Jew.'
Meanwhile, Orban's campaign has also been criticized by Jewish groups, including the Federation of Hungarian Jewish Congregations (Mazsihisz), which has called on the Hungarian prime minister to end it.
"This campaign, while not openly anti-Semitic, clearly has the potential to ignite uncontrolled emotions, including anti-Semitism," the federation said last week, as quoted by Reuters.
Orban quickly responded in a letter posted by state news agency MTI on Friday, saying it was his duty to protect Hungarians – including the country's some 100,000 Jews – from illegal migration.
"The person who uses his wealth, power, influence and a network of non-governmental organizations (NGOs) funded by him to settle millions of migrants in Hungary and the European Union puts our future in jeopardy," Orban wrote.
"The billionaire speculator George Soros has made it quite clear repeatedly that this is precisely what he wants to do," he said.
However, Vachon called this conclusion a "fantasy" on Tuesday.
"Soros's actual position on migration is that the international community should provide more support to the developing countries that today host 89 percent of refugees and that Europe should accept several hundred thousand fully screened refugees through an orderly process of vetting and resettlement," he said.
Orban has long proclaimed zero-tolerance for anti-Semitism and accused his opponents of playing the "anti-Semitism card." His government maintains that the campaign ads have nothing to do with Soros' heritage.
"The campaign has nothing to do with the heritage of George Soros or anyone else," government spokesman Zoltan Kovacs said last week, adding that Orban had met with Jewish organizations on Thursday to reaffirm this fact.
Orban has often found himself in the spotlight for his views and actions, many of which are disapproved of by the officials of other EU member states.
He butted heads with fellow European leaders during the refugee crisis after fortifying his country's southern border with a barbed wire fence. He has also rejected a quota scheme to distribute asylum seekers among EU countries that would force Hungary to take in more refugees.
Orban, who is seeking a third consecutive term as prime minister, will face re-election in 2018.
You can share this story on social media: