Israel backs Hungary's anti-Soros campaign, saying financier 'continually undermines Jewish State'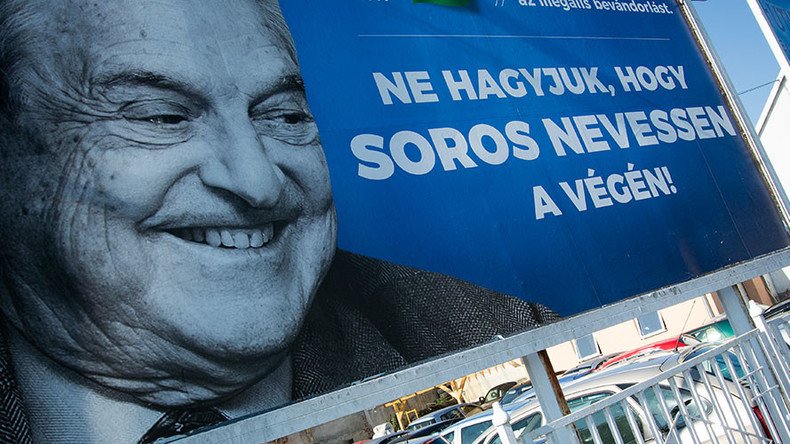 A day after Israel's ambassador in Budapest called for local election billboards targeting George Soros to be removed – saying the campaign "sows hatred and fear" – Israel's Foreign Ministry weighed in, agreeing with the substance of Hungary's criticism.
Budapest has been plastered with election posters paid for by the ruling Fidesz party that depict the Hungarian-born billionaire grinning smugly, with the slogan "Let's not let Soros have the last laugh." Above is a caption that reads "99 percent reject illegal migration" – the main point of contention between the Hungarian government and Soros, who has criticized the country for refusing to accept a mass influx of asylum seekers.
On Saturday, Israel's ambassador to Hungary, Yossi Amrani, asked the government to discontinue the billboard campaign due to the local Jewish community's fears that the negative portrayal of Soros, who is Jewish, would stir up anti-Semitism.
"I call on those involved in the current billboard campaign and those responsible for it to reconsider the consequences. At the moment, beyond political criticism of a certain person, the campaign not only evokes sad memories, but also sows hatred and fear," Amrani wrote in a statement, approved by the foreign ministry, Haaretz reported. "It's our moral responsibility to raise a voice and call on the relevant authorities to exert their power and put an end to this cycle," he added.
However, Israel released another statement on Sunday night that appeared to change the emphasis.
"Israel deplores any expression of anti-Semitism in any country and stands with Jewish communities everywhere in confronting this hatred. This was the sole purpose of the statement issued by Israel's ambassador to Hungary," it read.
"In no way was the statement meant to delegitimize criticism of George Soros, who continuously undermines Israel's democratically elected governments by funding organizations that defame the Jewish state and seek to deny it the right to defend itself," it continued.
According to Haaretz, the clarification was personally ordered by Prime Minister Benjamin Netanyahu himself.
The Israeli newspaper said Netanyahu, who, unusually, is also his country's Foreign Minister, only learned of the ambassador's statement from the media, and was displeased that it appeared to defend Soros, a long-term bête noire of the current Israeli government.
Netanyahu is due to travel to Hungary and meet with the Fidesz party leader and Prime Minister Viktor Orban on July 18, in the first Israeli state visit to the country in three decades.
Soros' network of influence infuriates Israel & Hungary
Soros, 86, grew up in Budapest before emigrating to the UK in 1947. He then moved on to the US and has built up a fortune that Forbes currently estimates at $25.2 billion. He has drawn the ire of both Hungary and Israel for using his money and influence to exert political pressure from abroad. His Open Society Foundation (OSF) has an annual budget of over $930 million, and has spent $14 billion since the 1980s, according to its own documents.
Hungary has branded Soros as a "risk to national security," saying the billionaire is funding globalist, liberal NGOs that aim to "settle a million migrants inside the country" and challenge the government's anti-migrant and anti-Islam position.
Orban, who ironically is himself a former recipient of a Soros scholarship, has already threatened to shut down Soros-founded Central European University in Budapest.
The government's poster campaign has been criticized for evoking Nazi-era imagery of Soros as a shadowy puppetmaster. Orban's Fidesz party has also been accused of courting voters of the previously openly anti-Semitic Jobbik party, which is polling at around 20 percent ahead of an as-yet-unscheduled election that will take place before next summer.
Soros has endorsed non-governmental organizations in Israel that promote Palestinian causes, paint Israel as an apartheid state responsible for systemic war crimes, and promote the Boycott, Divestment, and Sanctions (BDS) movement.
Hacked internal documents published last year showed that OSF sought to keep a "low profile and relative distance" even as it poured millions into a network of ostensibly independent and unrelated groups, united by their opposition to the current Israeli government.
You can share this story on social media: