Ex-Ukrainian defense minister calls for terror attacks in Russia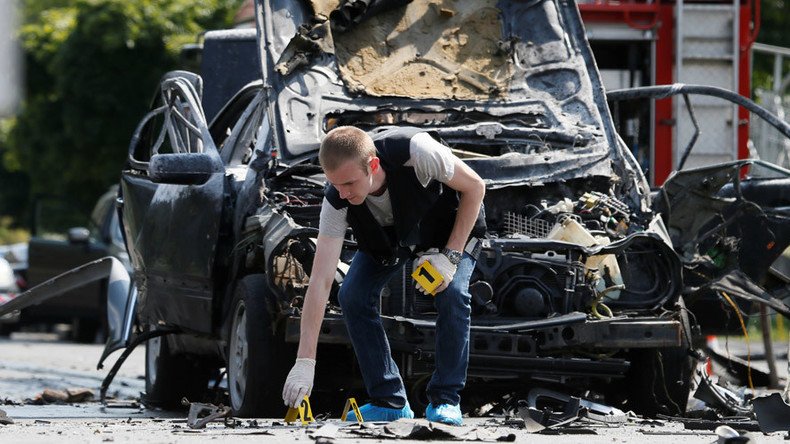 Former Ukrainian defense minister, Anatoly Gritsenko, has urged Kiev to stage its own terror attacks in Russia in response to car bomb attacks targeting Ukrainian security officials which he unsubstantially blamed on Moscow.
The ex-minister accused Moscow of masterminding the attack on Colonel Maksim Shapoval of the Ukrainian Defense Ministry's Chief Intelligence Directorate who was killed in a car bomb explosion last week.
Gritsenko said what's happening between Ukraine and Russia is "war," while appearing on the broadcaster, 121 Ukraina.
"This is not the first such demonstrative and brazen murder of Ukrainian officers, our best officers," he said, referring to a March car bomb in Mariupol in which counterintelligence official, Aleksandr Kharaberyush, was killed.
"If this is really a war, and not a just a game for the president [of Ukraine Petro Poroshenko], it means that for every car that blows up Kiev or Mariupol, two cars should blow up in [the Russian city of] Taganrog or Moscow," said Gritsenko, who was Ukraine's defense minister between 2005-2007.
The investigations into both explosions are still underway in Ukraine, with no suspects named and no arrests so far.
Kiev has been conducting a military operation in the south-east of the country since the spring of 2014. The military campaign began after the populations in the Donetsk and Lugansk Regions refused to acknowledge the new coup-imposed government in the capital.
In June, the UN said the death toll from the conflict had exceeded 10,000 people with around 24,000 injured.
Kiev and its Western backers have repeatedly accused Russia of supporting the rebels in eastern Ukraine, despite Moscow denying any involvement while citing a lack of substantial evidence.
READ MORE: OSCE denies Ukrainian claims monitoring mission was shelled by rebels
In recent months, several prominent military commanders and officials in the self-proclaimed Republics of Donetsk and Lugansk have been killed in explosions, which officials there are blaming on the Ukrainian Security Service (SBU).
You can share this story on social media: