OSCE denies Ukrainian claims monitoring mission was shelled by rebels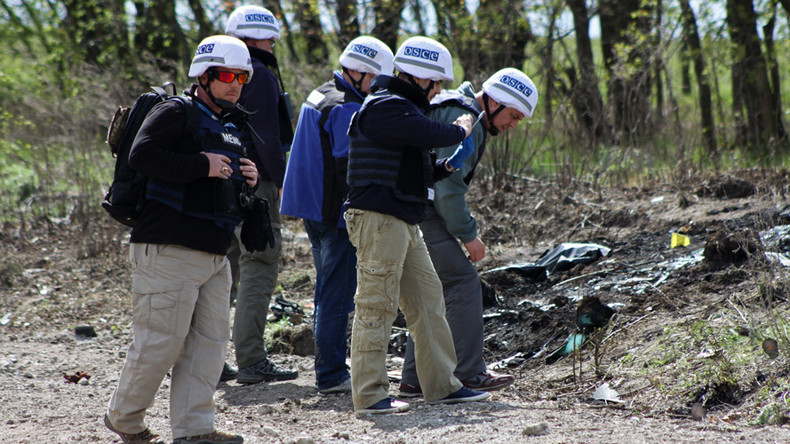 The OSCE has dismissed as "incorrect" claims by Kiev that the Special Monitoring Mission's base in Ukraine's Lugansk Region was shelled by the rebels.
The Special Monitoring Mission (SMM) took to Facebook to respond to "incorrect information issued by the press center of [Kiev's] anti-terrorist operation."
"The OSCE SMM's forward patrol base in Popasna in Luhansk region was not shelled; no damage has been sustained and all staff are safe," it added.
The Organization of Security and Cooperation in Europe monitors said that they registered "considerable shelling" in the area by both Ukrainian and rebel forces on Thursday night and early Friday, adding that the SMM employees "remained safe throughout this time at the forward patrol base."
The staff, who withdrew from the HQ on Friday for debriefing in Sievierodonetsk, was to return to Popasna later in the day, the SMM added.
Earlier, the press service for Kiev's so-called Anti-Terrorist Operation in Donetsk and Lugansk Regions reported that the Special Monitoring Mission's base was shelled by rebel mortar and artillery fire late Thursday.
The Ukrainian side said that it condemned the actions of the self-defense forces, calling them a violation of the agreements earlier reached between the sides.
The Minsk 2 deal was signed in the Belarusian capital in February 2015 to uphold the failing ceasefire between Kiev and the self-proclaimed republics of Donetsk and Lugansk.
The accord stopped the all-out fighting and forced the pullout of heavy weaponry from the line of contact by both sides. However, separate incidents of shelling and other violations occur in eastern Ukraine on a regular basis.
READ MORE: 'Don't want to be handcuffed to Minsk': Tillerson advocates 'flexibility' on Ukraine crisis & Russia
The Ukrainian conflict started in spring 2014 after Kiev sent its military to the Donetsk and Lugansk Regions, which protested against the new coup-imposed government in Kiev.
Earlier in June, the UN said that the death toll from the conflict has exceeded 10,000, with around 24,000 injured.