Nationalist charged for plotting to attack Macron on Bastille Day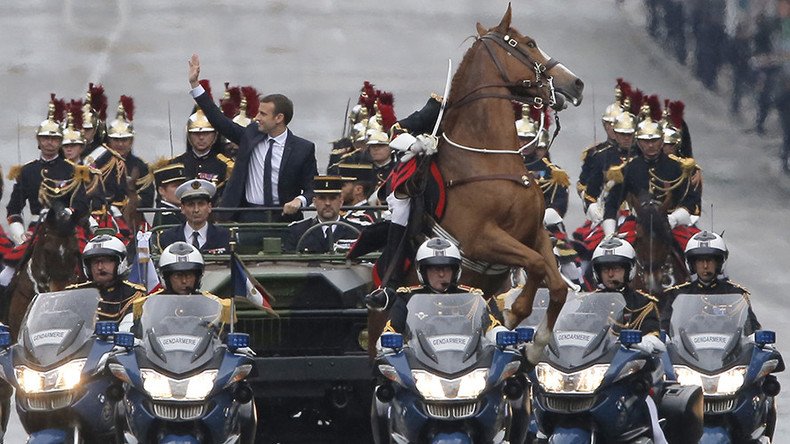 A man with nationalist views has been preliminary charged with terrorism-related offences for allegedly planning to attack French President Emmanuel Macron on Bastille Day, the Paris prosecutor's office said.
The plans of the 23-year-old suspect were vague and he appeared to be acting alone, a spokeswoman for the prosecutor's office, Agnes Thibault-Lecuivre, said on Monday, as cited by AP.
On Saturday, the man was preliminary charged with being involved in individual terrorist activity, Thibault-Lecuivre said, adding that the suspect might have also been planning to attack minorities.
The report about the possible threat to the French President was first released on RMC radio, a sister branch of BFMTV channel.
According to the report, the suspect, who is from the Argenteuil commune in the suburbs northwest of Paris, was planning to attack the president on July 14th during a Bastille Day parade along the Champs-Elysees.
The suspect, who has described himself as "nationalist," threatened police with a knife when he was arrested on Wednesday, the, RMC said.
While in custody, the unemployed man said he wanted to make a political statement by attacking the president during the parade. He also reportedly told the authorities that he was planning to attack "blacks, Arabs, Jews or homosexuals."
The man, who has been described as mentally unstable, was convicted for incitement to terrorism back in 2016, RMC said.
In 2002, a far-Right neo-Nazi named Maxime Brunerie attempted to assassinate French President Jacques Chirac with a long-range rifle during a Bastille Day parade on Champs-Elysees. He managed to get off one shot before being overpowered by police. He served seven years in prison for the attack.
You can share this story on social media: