'Friendly & hospitable': Fans describe warm atmosphere at Confed Cup ahead of closing ceremony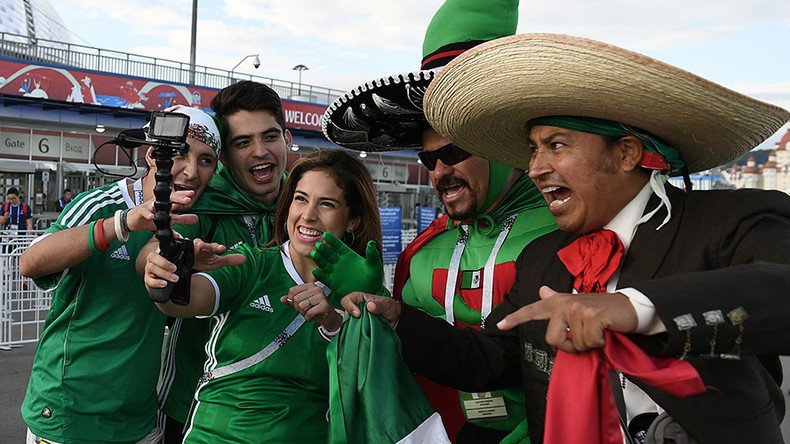 Fans that came from Mexico to attend the FIFA 2017 Confederations Cup have praised the event's warm and friendly atmosphere and hope to come back again next year for the FIFA World Cup. The Confed Cup is set to close in a majestic ceremony on Sunday.
"When we went to the match with Mexico and Russia, we thought they are going to be mad if we win the match," one Mexico fan told RT in Moscow, adding "[but] they were still very friendly."
One fan described his overwhelming emotions after Mexico beat Russia.
"We thought they would be angry, but it turned vice versa. They came to us and wished good luck in the next match. To me, it was the most emotional moment," the fan recalled.
"Friendly" was the main word that fans from across the globe used to describe their hosts.
"We thought they [Russians] were cold, but they turned out to be very hospitable, friendly and open," another Mexico fan told RT in St. Petersburg.
"They [Russian people] are friendly. We will come back for the World Cup," the Mexico fans said, with one promising "I will definitely be here next year."
Sunday is the last day of 2017 FIFA Confederations Cup, which was held in four host cities – Moscow, St. Petersburg, Kazan, and Sochi.
Two matches are to be played today – the first between European champions Portugal and Mexico for third place, and then the final battle between current World Cup champions Germany and Chile for the cup. The closing ceremony – a grandiose show with over 1,000 performers – will kick off before the final match.
You can share this story on social media: