Protests rock Brazil as looming pension reform sparks anger (PHOTOS, VIDEOS)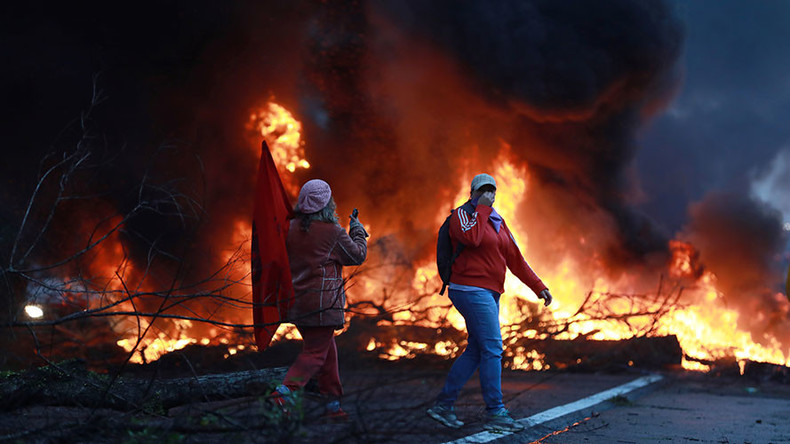 Demonstrations rolled through Brazil on Friday, triggered by President Michel Temer's austerity policy and looming pension reforms. In several cities, protesters faced off with police, who deployed tear gas and rubber bullets.
Labor unions called the demonstrations on Friday, demanding that the authorities roll back the social security and welfare reforms initiated by Temer, local media reported.
The protests shut down subway and bus services. Highways were also blocked, causing major traffic delays in Brasil, Sao Paulo, and Rio de Janeiro.
In Sao Paulo, protests blocked some of the city's main roads and highways and hindered access to Guarulhos Airport, the nation's biggest.
In Rio De Janeiro, the protest proceeded peacefully before scuffles broke out between a group of masked protesters and police, Globo reports. The rioters reportedly used smoke bombs, and police responded with tear gas. The demonstration in Rio gathered some 6,000 people, according to AP estimates.
"Brazilians are happy even when protesting, but the moment will come when we'll have to hit harder, with more violence, against those thieves that govern us," 70-year-old Ivete Franca, a retired history professor, said, as cited by AP.
A doll depicting Rio's governor, Temer supporter Luiz Fernando Pezao, was burned in the city's Candelaria neighborhood as protesters called him a thief.
"We must defeat the labor and pension reforms because it is the return of slavery, and you'll have to work until you're 100, 200 years old," said Iran de Paula, a lawyer who joined the Movement for Roofless Workers, as cited by AP.
A number of smaller Brazilian cities followed suit. Protests disrupted public transportation in the cities of Goiania, Aracaju, Florianopolis, and Porto Alegre.
In Belo Horizonte, activists pelted Health Minister Ricardo Barros with eggs, local media reported, adding that four people were arrested following the incident. In Recife, protesters set fire to tires.
Police deployed rubber bullets and pepper spray against protesters in Fortaleza, while detaining at least two people, local media reported.
Several activists were reportedly arrested in Santa Catarina, where police also resorted to unleashing rubber bullets and tear gas to disperse the gathering.
The protesters have been demonstrating against pension reforms proposed by Temer's government that could reduce their retirement benefits. The reforms would also introduce a minimum retirement age, which Brazil currently does not have, setting it at 65. At present, public-sector employees work to the age of 54 on average.
READ MORE: Brazilian President Temer charged with multi-million-dollar bribery
READ MORE: Thousands rally across Brazil as pressure builds on Temer to step down (VIDEO)