Brazilian President Temer charged with multi-million-dollar bribery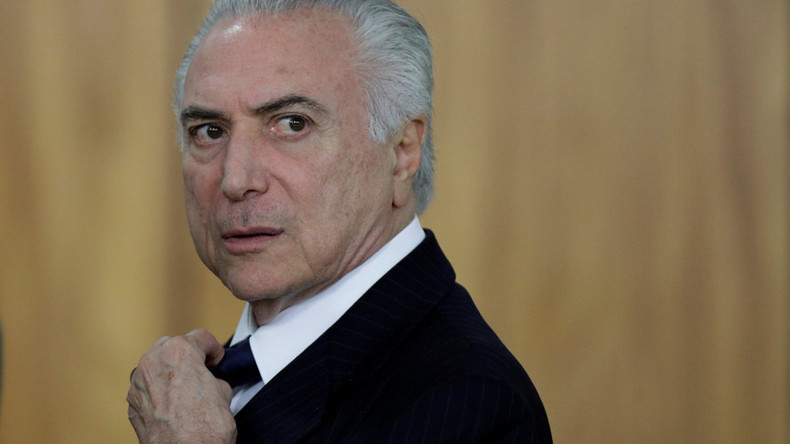 Brazilian President Michel Temer has been officially accused of taking multi-million-dollar bribes in a formal statement sent to Brazil's Supreme Court by Prosecutor-General Rodrigo Janot.
Temer has been charged in connection with a graft scheme involving the world's biggest meatpacking company, JBS SA. It is alleged that Temer was to receive a total of 38 million reais ($11.5 million).
READ MORE: Top Brazil court leaves President Temer in office over alleged illegal 2014 campaign funds
The document presented to the Supreme Court, which aims to imprison Rodrigo Rocha Loures, an ex-lawmaker and close advisor to the Brazilian leader, contains the accusation against the president.
"Rodrigo Loures represented the interests of Michel (Temer) in the occasions when he met with representatives of Group J&F. Through him, Temer arranged to receive unfair advantages in exchange for favors in public affairs," wrote Janot, as cited by Xinhua.
The statement added that Temer "fooled Brazilian citizens," as cited by Reuters.
Loures was detained after footage emerged of him receiving a suitcase containing 500,000 reais ($150,000 US dollars), which was allegedly a bribe for Temer from meatpacking company Group J&F.
In the document, the prosecutor-general also concluded that Loures and Temer clearly collaborated to obtain bribes, Xinhua added.

Now, the lower house of Congress must vote to decide if the top tribunal should be able to try the Brazilian leader.
As part of a plea bargain in May, the meatpacking company's heads, Joesley and Wesley Batista, provided tapes that reportedly contained conversations Temer had had with various officials and businessmen. Temer is alleged to be heard discussing cash bribes to Eduardo Cunha, the former speaker of the House, who is currently in prison over the Petrobras scandal.
READ MORE: 'Coup within a coup: Contest for Brazil's future continues'
Temer has refuted the accusations, saying on Monday, "Nothing will destroy us. Not me and not our ministers."
"The president's defense will prove there was no crime," a spokesman for Temer told Bloomberg in a text message responding to the statement.
The latest statement comes after the top electoral court ruled in mid-June that President Temer should not be removed from office.
Meanwhile, Temer's public support is very low, with violent demonstrations attended by thousands of protesters taking place all across Brazil. Troops were deployed and ministries evacuated in the latest series of rallies at the end of May.