Russia, US & China able to join forces in tackling global challenges – Lavrov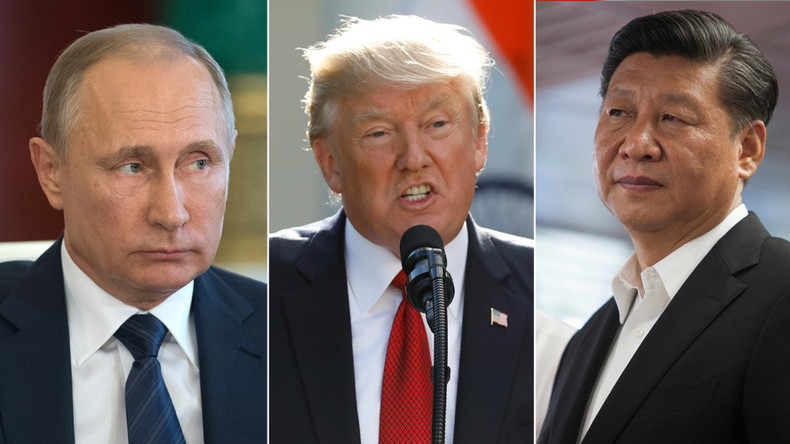 Russia, the US, and China uniting to tackle global challenges is still a realistic scenario, given the three nations' influence on international affairs, Russian Foreign Minister Sergey Lavrov said.
"It is impossible to speak of a scenario [in which] the US and China would unite against Russia, or Russia and China would stand against the US," Lavrov said on Friday in Moscow at the 2017 Primakov Readings, a high-profile international forum named after the late Yevgeny Primakov, former foreign minister.
"But I believe it is still possible to comprehend how [our] three countries – given their influence on world affairs and world economy – are able to help address global challenges," Lavrov said, as cited by TASS.
Russia-US relations are crucial for the rest of the world, as the international community is watching closely how Moscow and Washington approach pressing issues, including strategic stability and regional crises, the foreign minister said.
"We see that the majority of countries are concerned about the current abnormal state of these relations which were taken hostage by [the] domestic struggle for power in the US," he continued. "We [believe] that our presidents' meeting in Hamburg [at the G20 summit] would clarify [the] prospects of the Russia-US ties."
This week, both Moscow and Washington confirmed that Russian President Vladimir Putin and his US counterpart, Donald Trump, are expected to meet in person at the G20 summit which will take place in Hamburg on July 7-8.
On Wednesday, Lavrov said the meeting between Putin and Trump "will take place, since the two presidents will be at the same time in the same city, the same building, the same hall." He added that "it won't be right, I guess, if they aren't able to talk there and to discuss a lot of issues."
US National Security Adviser H.R. McMaster said the meeting has "no specific agenda" so far. "It's really going to be whatever the president wants to talk about," McMaster said.
Trump intends to address both "irritants" and areas on which Washington and Moscow can work together, McMaster said. "Our relationship with Russia really isn't different" from the United States' relationships with other countries, he added.
Commenting on the upcoming meeting, Lavrov urged the public not to expect much from the landmark talks. "I'd like not to outline expectations," he said.
"Yes, we hosted US [Secretary of State] Rex Tillerson here, I visited President Trump at the White House, but at any rate, tete-a-tete contact between the Presidents is an important addition to their telephone conversations," the foreign minister said.
Nevertheless, there is room for cautious optimism, he said, adding that the tone of both presidents in their telephone conversations suggests they are determined to overcome obstacles and talk about specific issues affecting bilateral relations, including business ties and international issues.
You can share this story on social media: