Palestinian fined $200 for wearing underpants instead of bathing suit on Israeli beach – media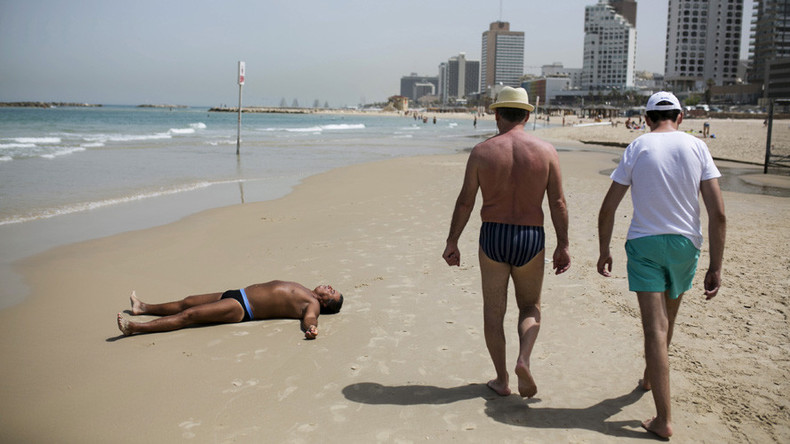 A long-awaited trip to the sea has turned into a hefty penalty for a Palestinian factory worker, who went to a beach in Israel for the first time in two decades and got fined for wearing underpants instead of a bathing suit, Haaretz reports.
Hakam Habash decided to go to the Herzl beach in the Israeli city of Netanya since he had a travel permit to be in Israel in day hours during the holy month of Ramadan. After he arrived at the Herzl beach with three friends, the group was eventually asked to show their entry permits by a municipal inspector.
However, it was not the permits that left the men with fines of 730 shekels ($207) each. "The above-mentioned came to the sea without a bathing suit," says a copy of Habash's ticket, which also cited "paragraph 99."
"The complainant was on the beach in underpants and not in regular clothing. Enforcement on the seashore takes place with the aim of preserving public order and the safety and wellbeing of the beach-goers, and we reject any attempt to attribute racist behavior or discrimination to the municipality and its employees," a spokesperson for the Netanya Municipality told Haaretz in a statement.
Habash, a 36-year-old worker at a jeans manufacturing factory in the West Bank, has four children, the newspaper reports.
READ MORE: Israel approves largest West Bank settlement construction in 25 years
"I guess I won't be able to see the sea again, because I can't make the payment, unless I use my pension or give up eating and drinking," said Habash, who earns 950 shekels a month.
The man claimed that Israelis wearing underpants at the Herzl had not been issued fines.
"I showed the copy of the fine to Jews I know in Samaria and they were amazed," he said, while a Tel Aviv beach inspector called the fine "illogical."