Syria's Assad tries out role of Su-35 fighter jet pilot at Russia's Khmeymim airbase (PHOTOS, VIDEO)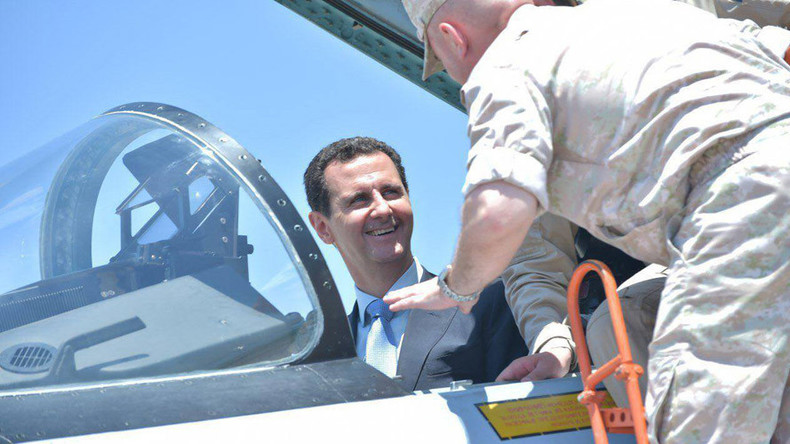 Syrian President Bashar Assad has tried out the role of fighter jet pilot, as he arrived in Latakia province to inspect the Russian-operated Khmeymim airbase. This marks the first time the Syrian president has visited the military airfield.
"President Assad has met the state-of-the-art and most important aircraft in the world, the Russian Su-35, located at the Khmeymim airbase," reads one of the posts, showing the Syrian leader climbing inside the cockpit of a fighter jet.
The pictures of Tuesday's visit have been shared by the president's press service on its Telegram channel, as well as other social media platforms.
READ MORE: Get the message? Telegram threatened with blocking by Russian media watchdog over non-compliance
The Russian chief of staff, General Valery Gerasimov, accompanied Assad, according to a statement by Russia's Defense Ministry. The two discussed coordinating actions of the Syrian government forces with the help of the Russian military against Islamic State (IS, formerly ISIS/ISIL) and the Al-Nusra Front in Syria.
Assad and Gerasimov also talked about implementing the memorandum on creating de-escalation zones in the country, aimed at ending the conflict in war-torn Syria and proposed by Russia during the Astana talks, the statement says.
Earlier this year, the two countries signed an agreement, allowing Russia to use the Khmeymim airdrome, as well as the naval port at Tartus, for 49 years, with the lease getting automatically prolonged for another 25 years.
READ MORE: Russian strikes take out 80 ISIS fighters, dozens of vehicles on march from Raqqa to Palmyra - MoD
Since 2015, the Russian military has been conducting an anti-terror operation in Syria at the request of Damascus. In March 2016, President Vladimir Putin ordered the majority of the Russian forces to be withdrawn, but with the two bases still functioning to monitor the ceasefire.