Get the message? Telegram threatened with blocking by Russian media watchdog over non-compliance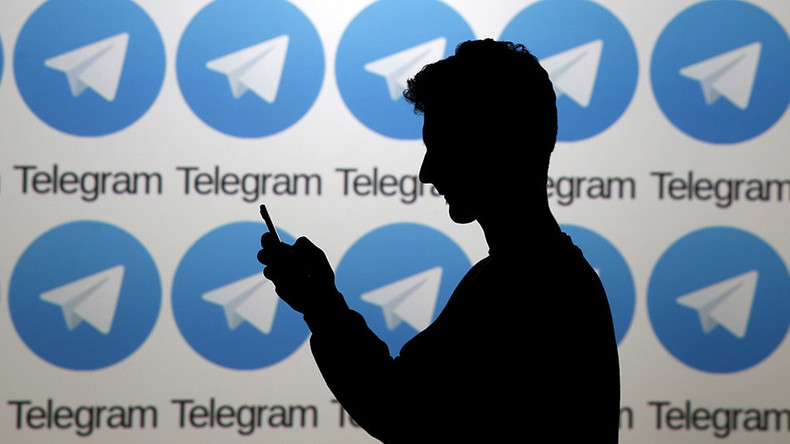 Russian media watchdog Roskomnadzor has threatened to block popular messaging app Telegram if its managing company doesn't comply with Russian law and provide the necessary data for official registration.
"I have to state that at this point we ran out of all possible ways of official negotiations with the Telegram team," Roskomnadzor head Aleksandr Zharov said in a statement on Friday.
The watchdog is asking the popular application to fill in the form with the information about the company that runs Telegram. The app should officially send this data to Roskomnadzor so it can include the company on a register of "organizers of information dissemination," Zharov said.
READ MORE: WhatsApp, Telegram 'severe' security flaw pinpointed following #Vault7 release
"Inclusion of the messenger into the register means that Telegram is willing to work under Russian law," he said, adding that the messenger service's legal status won't change if it is included on the register.
However, the watchdog hasn't yet received any response from Telegram's administration, according to Zharov.
"In case of refusal to fulfill the obligations on dissemination of information by the organizer, Telegram shall be blocked in Russia. Until we receive the required information. The time given to Roskomnadzor under law to take this decision is running out."
Should Telegram provide the necessary data to Roskomnadzor and be included on the list, the company will be obliged to keep and, if needed, share users' chats and their cryptokeys with law enforcement services upon request.
READ MORE: France & Germany seek to force WhatsApp & Telegram to unlock encrypted messages
Telegram is supported by Russians Pavel and Nikolay Durov. However, the service says it is not connected with Russia, either "legally" or "physically."
Pavel Durov called the possible blockage of the service "paradoxical," saying that Russian authorities "don't ban US-controlled" WhatsApp or Facebook Messenger. He described his application as having a "neutral relation" to Russia.
However, as soon as "Telegram is blocked, all correspondence between Russian officials and their friends and families and other sensitive data in WhatsApp/Viber would be passed to US-controlled Apple iCloud/Google Drive," Durov said in a statement posted on Russia's VKontakte (In Contact) social network, also created by him.
Durov's statement is "neutral to terrorists and criminals who use his messenger and [it] totally ignores the safety of Telegram users," Zharov said in response, commenting on Roskomnadzor's official Vkontakte page.
Headquarted in Berlin, the cloud-based messaging service was launched in 2013. In February 2016, Telegram announced that it has more than 100,000,000 monthly active users, while 350,000 new users sign up each day.
"We're delivering 15 billion messages daily," the service said in a statement.
According to Telegram, the service is "more secure" than mass-market messengers like WhatsApp.
"We are based on the MTProto protocol, built upon time-tested algorithms to make security compatible with high-speed delivery and reliability on weak connections," the company said.
In June 2016, Pavel Durov told Russian Izvestiya newspaper that Telegram "won't share data or any crypto-keys to third parties, including governments."
"Laws, applied in individual countries will not affect this policy," he said.
Earlier in June, Europol director Rob Wainwright accused Telegram of refusing to join the anti-extremism fight.
"There are some [social media platforms] that simply won't cooperate with us. One in particular causing major problems for us is Telegram," Wainwright told the Financial Times.
You can share this story on social media: