'Nation of nations': Australia becomes less European amid influx of Asian immigrants
Published time: 27 Jun, 2017 17:54
Edited time: 28 Jun, 2017 09:37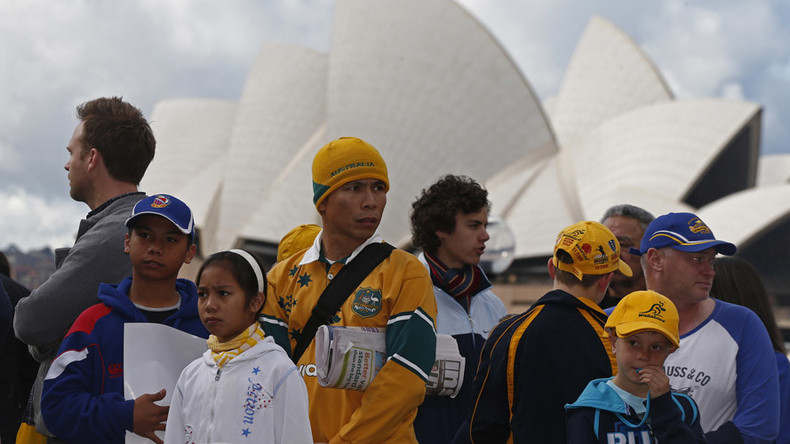 Almost half of Australians were either born overseas or have at least one parent who was born abroad, according to new census data which shows that the country is becoming more Asian and less European.
The 2016 data, released Tuesday, shows that only slightly more than half (50.7 percent) of the country's residents have two Australian-born parents – a decrease from 2011 and 2006, when 54 percent and 57 percent did, respectively.
Over one-quarter (26.3 percent) of the country's population was born overseas, according the data, which also revealed that for the first time, the most overseas-born came from Asia rather than Europe.
"The proportion of overseas-born people from Europe has been in rapid decline in recent years – from 52 percent in 2001 to 40 percent in 2011, and 34 percent in 2016. That's from one in every two migrants to one in every three in the space of 15 years," the Australian Bureau of Statistics (ABS) wrote, as quoted by Huffington Post Australia.
"Conversely, the proportion of migrants born in Asia has increased," it continued.
The data specifically notes that China, India, the Philippines, Vietnam, and Malaysia now account for more foreign-born residents than England, New Zealand, and mainland Europe.
As such, English is becoming less common, although it is still the country's most used language. A total of 72.7 percent of residents said they spoke English at home, down from 76.8 percent in 2011.
Mandarin is spoken by 2.2 percent of Australians, while Arabic is spoken by 1.4 percent. Vietnamese is spoken by 1.2 percent, while Cantonese is used by another 1.2 percent.
All in all, the census data noted 300 different languages spoken in the country, including Indigenous languages.
More than 100 religions were also recorded, although "no religion" was the most common response.
The diverse findings prompted the ABS to refer to Australia as a "nation of nations."
Meanwhile, the census also discovered that a record number of Australians (15.8 percent) were aged 65 or over in 2016. Four percent were aged 85 or over, also a record.
However, the fact that Asian immigrants are typically much younger than European immigrants means they are helping to slow down the aging population.
READ MORE: Australia destination of choice for world's millionaires
Australia's estimated population on December 31, 2016 was 24.4 million people. The census had a response rate of 95 percent, with 63 percent completing it online. Those who refuse to take part are fined AU$180 (US$136) per day until they fill in the form, while those found to have provided false or misleading information face a penalty of AU$1,800 (US$1,369).
The country's census, which is conducted every five years, was criticized last year by politicians and privacy advocates who cited concerns over the way data is collected and retained.
The census was also plagued with technical issues, with the online system crashing as millions of early birds attempted to fill out the survey. The issues prompted the trending hashtag #censusfail on Twitter.