More than half of foods marketed to kids are junk – obesity research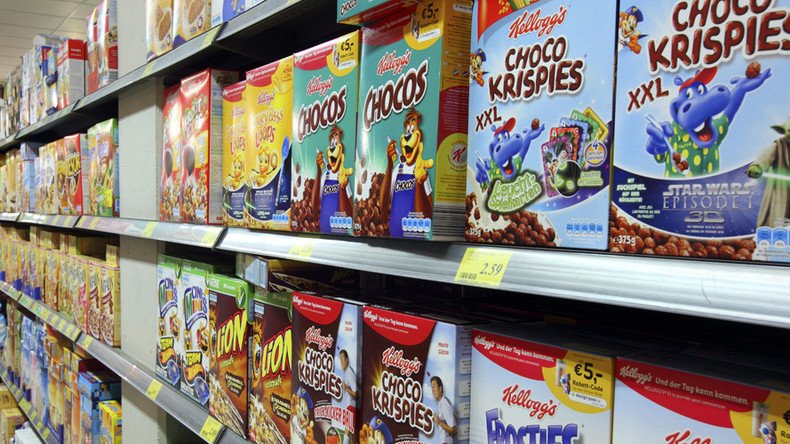 Your morning cereal featuring Tony the Tiger on the box is likely to turn out to be an unhealthy option, as a new study conducted by Australian obesity researchers branded half the products using animation in their promotions detrimental to health.
"It's extremely frustrating to see cartoons and animations being used to lure children and create pester power to push parents into buying unhealthy products for kids,"said Jane Martin, an executive manager of the Obesity Policy Coalition (OPC), which is behind the new finding.
186 samples of packaged foods with cartoons were used in the group's survey, which revealed that 52 percent of them do not meet the requirements set by Food Standards Australia and New Zealand (FSANZ) to label them as healthy.
The OPC survey found that 87 percent of kids' snack bars, as well as 88 percent of ice creams and ice pops are filled with fats and sugar. Almost a third of the children's cereals studied were found to be unhealthy.
"Children are naturally drawn to fun, colourful characters on foods in the supermarket, and food companies are fully aware of this," Martin said, adding that food manufacturers are aware of "an incredible amount of power" that children have over their parents in terms of what to buy.
The OPC has called on the Australian government to follow the Chilean example which, in 2016, adopted a law banning the use of toys in promoting products with high sugar, salt, or fat.
"Urgent action is required to protect our children from the plethora of junk food promotion that surrounds them," Martin said, adding that restricting selling junk food to children would tackle childhood obesity, which is faced by one-fourth of Australian children.
READ MORE: Almost 1/3 of people worldwide overweight, says new study
"It's a shame that this powerful marketing tactic is not being used to sell more healthy products instead," Martin said.
To illustrate their findings, the OPC attached several samples of foods appealing to kids with cartoon characters on their packaging, including Kellogg's Frosties. The companies fired back, stating that the OPC is "effectively saying to parents that they have less influence on their kids than a picture of a tiger or a monkey on a box of cereal."
You can share this story on social media: