Orange quashed: US pediatricians dismiss health benefits of 100% fruit drinks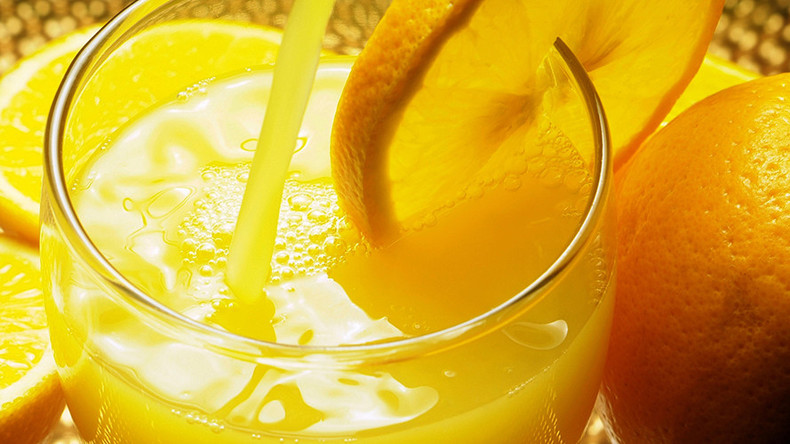 A leading doctors' group in the US is dismissing the health benefits of juice for children and teens, saying that 100 per cent fruit drinks have "no essential role in healthy, balanced diets of children."
Fruit juice is often recommended as a good source of vitamin C and water for young children, while drinks made entirely from fruit have also been seen as a home remedy for stomach ailments.
READ MORE: Small glass of wine or beer a day increases breast cancer risk – study
According to US Food & Drug Administration (FDA) guidelines drinks labelled 'juices' must contain 100% fruit or vegetables. If it contains other ingredients this must be mentioned and the drink branded as a 'drink' or 'beverage.'
However, the American Academy of Pediatrics (AAP) now recommends that young people keep their fruit juice intake to a minimum, since the drinks add very little to people's physical well-being and can actually do more harm than good.
The group also states that people should "avoid" giving fruit juice to infants under the age of one.
"Fruit juice offers no nutritional benefits over whole fruit for infants and children and has no essential role in healthy, balanced diets of children," the AAP's policy statement reads.
READ MORE: Lame lover? You may be watching too much porn, study suggests
"In, addition, high intakes of juice can contribute to diarrhea, overnutrition or undernutrition, and the development of dental caries [cavities]," it adds.
The AAP recommends instead that daily fruit juice consumption for children up to six years of age be limited to around four to six ounces (113-170g). Meanwhile, kids aged between seven and 18 should consume no more than eight ounces or one cup a day.
While the advice is meant to improve people's health knowledge, not everybody is happy about the AAP's stance.
You can share this story on social media: