May, Trump & Duterte scolded by UN human rights chief
Published time: 27 Jun, 2017 11:38
Edited time: 28 Jun, 2017 09:36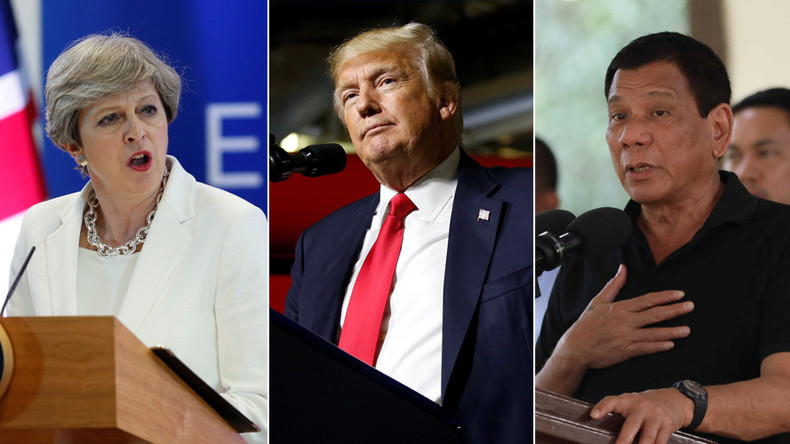 The UN human rights commisioner has condemned British Prime Minister Theresa May for saying she'd weaken human rights laws to prosecute terrorists, calling it "regrettable." He also lashed out at Donald Trump and Rodrigo Duterte for their stances on torture.
"Whatever the intention behind her remarks, they were highly regrettable, a gift from a major Western leader to every authoritarian figure around the world who shamelessly violates human rights under the pretext of fighting terrorism," Zeid Ra'ad al-Hussein said on Monday night in a lecture at the Law Society in London.
In his speech, entitled "Is international human rights law under threat?," Zeid went on to ask what universal rights the British prime minister would be willing to set aside to fight terrorists, and why she considers this goal more important than defending people's physical well-being, rights, and values.
In the run-up to general elections, May said she was ready to scrap human rights laws to make it easier to pursue people the authorities believe pose a terrorist threat.
Apart from calling for longer prison sentences and regulations making it easier to deport foreign terror suspects, May went as far as to say that she would seek "to restrict the freedom and the movements of terrorist suspects when we have enough evidence to know they present a threat, but not enough evidence to prosecute them in full in court."
"And if human rights laws stop us from doing it, we will change those laws so we can do it," she concluded.
May's remarks were said "to strike a chord with a certain sector of the electorate," according to Zeid.
US President Donald Trump got his fair share of criticism in Zeid's lecture as well. The human rights chief accused him of "persistent flirtation… with a return to torture," noting that, while it's unlikely that "enhanced interrogation techniques" will return at present, this could "change dramatically" following a terrorist attack.
Zeid also chided Rodrigo Duterte for his embrace of extra-judicial killings. The Philippines' president has repeatedly outlined this strategy since unleashing his war on drugs.
"I told them that once you get involved in drugs I will kill you. I will ambush you, poison you, bomb you, whatever. Steal your wife from you," he has said.
Zeid warned that the "practice of torture is likely to broaden" if other world leaders follow Trump and Duterte's lead, saying the leaders are "breaking long-held taboos."
The UN human rights chief also addressed Trump's proposed travel bans, saying that "pretending to seal off borders – with or without walls decorated with solar panels – is an illusion, and a nasty one."