Paris attacker 'swore allegiance to ISIS', was on terrorism watch list & had gun permit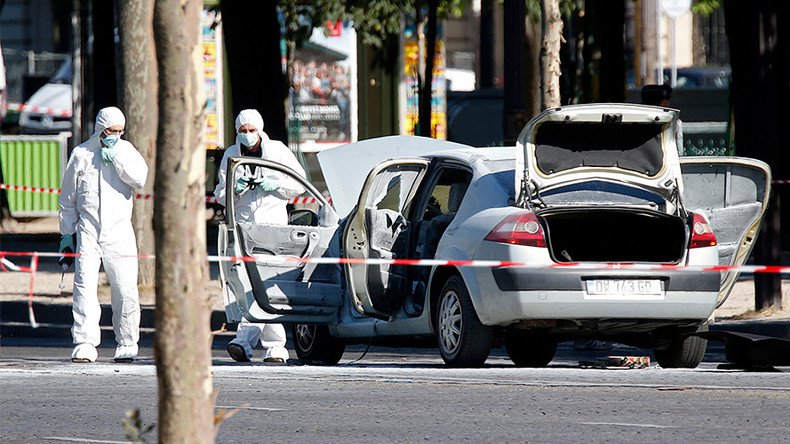 The man who rammed a car into police officers in Paris had a gun permit, despite being on a terrorist watch list. He is said to have been raised in a Salafist family and had sworn allegiance to Islamic State. Four of his relatives have been detained.
The perpetrator, who died in the attack on the Champs-Elysees on Monday, has been identified as 31-year-old Adam Djaziri from the Paris suburb of Argenteuil. An assault rifle, two handguns, ammunition, as well as two gas canisters were found in his car after the attack.
Djaziri was in possession of at least nine registered weapons, including pistols and an assault rifle, an unnamed source close to the probe told AFP.
The man pledged allegiance to Islamic State (IS, ISIS or ISIL) in a letter to his brother-in-law, according to a source close to the probe as cited by Reuters. Djaziri has been described by media as a person raised in a Salafist family. Four of his relatives were detained by police following the attack – his father, ex-wife, brother, and sister-in-law.
"I wasn't aware of anything," Djaziri's father told Le Parisien before being taken away by police. "My son was doing shooting sport, everything was licensed. And we have a normal religious practice."
The gun permit was given to the suspect before he was placed on the watch list, according to French Prime Minister Edouard Philippe.
"What I know at this stage is that the first weapons permit was given before this individual was flagged," Philippe told BFM TV. "Nobody can be happy, and certainly not me, that someone who has been flagged to security agencies can continue to benefit from such an authorization."
Djaziri's gun permit, however, might have been extended in early 2017, despite his 'Fiche S' status, French media reported citing sources close to the investigation.
A draft bill, introduced in May, allows officials handling gun permits to check whether individuals seeking a weapon license are on the terrorist watch list, the PM said.
Revoking permits from potential terrorists already on the watch list might have drawbacks, according to Philippe, as it might make individuals under surveillance aware they are being watched by the police.
"If you revoke the authorization of someone who is under surveillance, they're going to know why," Philippe said, as cited by Reuters.
The head of the French Shooting Federation, Philippe Crochard, told AFP that police had enquired about Djaziri at his shooting club.
"Two policemen came in October 2016 and asked questions about this person. It isn't normal procedure, so I assume they had their reasons," Crochard told AFP.
Djaziri was placed on the 'Fiche S' terrorist watch list after travelling to Turkey with his ex-wife in 2015. Law enforcement, however, did not determine whether he traveled to territories in Syria and Iraq under jihadist control.
"At the time, he was working as a gold and metal merchant, which could justify his stay in Turkey," an unnamed source close to the investigation told l'Express.
You can share this story on social media: