'Infidels should have throats cut': Italy arrests Iraqi refugee over ISIS support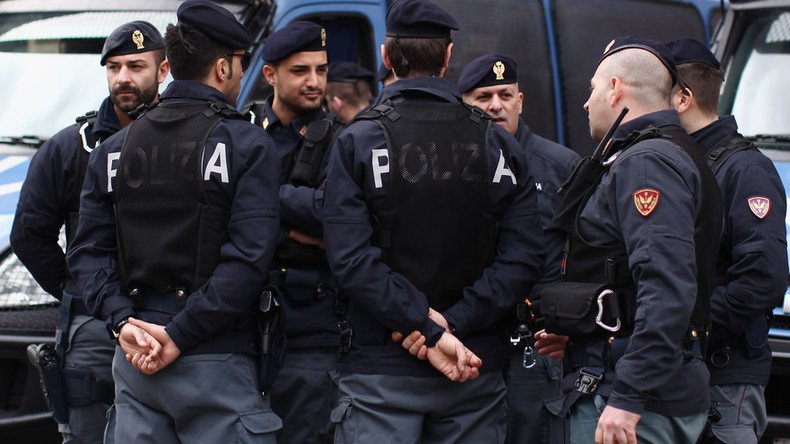 An Iraqi asylum seeker who reportedly said that those who aren't Islam worshipers "should have their throats cut" has been arrested in Italy. The man was also distributing materials backing Islamic State.
The 29-year-old was attempting to convince other asylum seekers staying at a state-funded center in southern Italian city of Crotone to carry out "acts of violence with terrorist objectives," police said as cited by Reuters.
"The Iraqi – considered violent and inclined toward criminal activity – had celebrated after the recent terrorist attack in Manchester," the Italian law enforcement agency said, referring to one of the recent terrorist attacks in the UK, which left 22 people dead.
According to police, the 29-year-old said in a recorded telephone conversation with his sister that he had been urged to come and join "the holy war" in Iraq, but chose to stay in Italy to "redeem the infidels" who "should have their throats cut."
Among the charges against the asylum seeker, are conspiracy to commit international terrorism and inciting others to break the law, according to the statement by a southern Italian court which ordered the arrest.
It's not the first time this year that an Islamic State (IS, formerly ISIS/ISIL) supporter had been detained in Italy: in April, Italian police arrested an "extremely dangerous" 29-year-old Moroccan man who was reportedly planning terrorist attacks.
Mouner El Aoual had lived in Italy illegally since 2008, shared IS pictures on Facebook, and celebrated recent terrorist attacks across Europe. He also actively promoted Islamist extremism online, writing that "non-believers" should be "roasted on kebab skewers" and fed to dogs, according to a police report.
The latest arrest adds fuel to the fire of the national debate over the refugee issue: some 500,000 people have arrived in Europe via Italy over the past three years, with boat arrivals up over 17 percent in 2017 compared with the same period of 2016, according to Reuters.
Some 200,000 refugees are currently living in shelters in 2,600 Italian municipalities, and they keep pouring in.
Other European countries have also been ringing alarm bells over the increased extremist threat: about a week ago, the interior ministers of German states agreed that it may be essential to fingerprint the children of asylum-seekers even as young as six, in order to fight radicalization.
The move was advocated after a 12-year-old boy attempted to blow up a Christmas market in Ludwigshafen, Rhineland-Palatinate last December. The boy was reportedly radicalized by Islamist propaganda.
The ministers also greenlit the potential monitoring of messenger apps frequently used by extremists to communicate with each other.
You can share this story on social media: