Taking in refugees 'much worse' than EU sanctions – Polish interior minister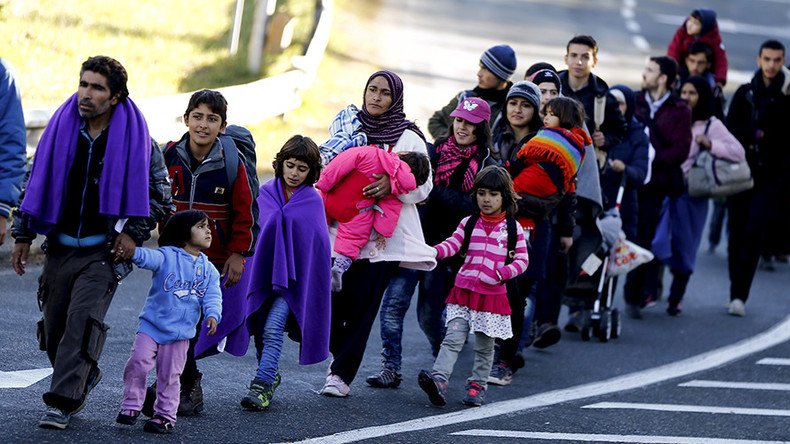 Accepting refugees under the EU relocation scheme would "certainly be much worse" than Brussels' penalties for not doing so, Poland's interior minister said, following an EU commission warning to Poland and Hungary to implement quotas or face action.
"We mustn't forget the terror attacks that have taken place in Western Europe, and how – in the bigger EU countries – these are unfortunately now a fact of life,"Mariusz Błaszczak said in an interview on Polish radio.
"Remember that the now very numerous Muslim communities (in western European countries) started out as relatively small numbers," Błaszczak added.
Błaszczak also said the current migrant crisis is solely a western European problem. "These countries had colonies back in their time, they benefited from Asia's and Africa's riches," he said. "This is an attempt to shift the repayment of those debts on Poland, as well."
His statement echoes Prime Minister Beata Szydło's earlier claims that the country "cannot accept refugees." This comes as the European Commission issued another progress report on the relocation scheme, singling out Poland and Hungary as the only countries which have not taken in a single person, "in breach of their legal obligations."
Meanwhile, Blaszczak believes that the EU relocation plan "only intensifies illegal migration," since would-be migrants are aware that they would get refuge in EU states other than Greece and Italy, where there are currently 12,400 and 2,500 asylum-seekers awaiting relocation.
He then added that the refugee quota system "risks the lives of people who are trying to reach Europe [on boats]."
Błaszczak reiterated his position at a meeting of EU justice and interior ministers on Thursday.
"Poland's position is consistent and clear: we oppose relocation," Błaszczak said at a news conference following the meeting, as cited by Reuters.
"This mechanism does not only fail to solve the migration problem, it aggravates it. It encourages more waves of migrants from Africa and Asia to come, which also provides a big source of income for smugglers and people traffickers."
According to figures from the International Organization for Migration, this year has so far seen around 54,000 people arriving in Europe by sea, with the death toll in the Mediterranean route currently standing at 1,316. Compared to 2016, the number of fatalities through May has dropped slightly, down from 1,382. Although there has been a significant decrease in arrivals since last year, almost 190,000 made their way to Europe through May 2016.
Both Poland and Hungary have been given until June "to start pledging and relocating immediately," or see "the opening of infringement procedures." The relocation system was approved by the majority of EU member states in September 2015, with Hungary, Czech Republic, Romania, and Slovakia staunchly opposing it. Under the plan, bloc members pledged to relocate 160,000 refugees from Italy and Greece within two years.
Hungary, too, remains adamant about its stance on immigration. The country is determined to erect a border fence, despite Brussels' calls on Budapest to repeal legislation tightening asylum rules. On Wednesday, the European Parliament condemned "recent developments in Hungary" which "have led to a serious deterioration in the rule of law, democracy and fundamental rights."
You can share this story on social media: