Earthquake & tsunami cause major flooding in Greenland (VIDEO)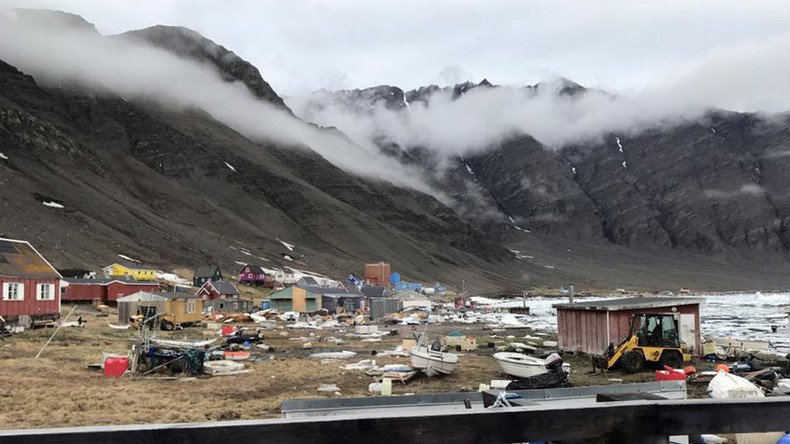 The western coast of Greenland has been struck with a 4.0 magnitude earthquake, triggering a tsunami that swept away several houses in coastal villages. At least four people are feared missing, as a rescue mission in the village hardest hit by waves is under way, local police reports.
The settlement of Nuugaatsiaq suffered the most, with 11 houses being washed away and the community being left with no electricity. With a registered population of 101, 78 people have been evacuated to the town of Uummannaq, the Greenlandic Broadcasting Corporation (KNR) reported, citing police officials.
READ MORE: NASA study links Greenland ice loss to 'gigantic invisible wave'
Two people sustained serious injuries, and seven others less serious injuries, police said. The remaining 23 people may be on vacation, or have gone fishing or hunting, police chief Bjørn Tegner Bay said, adding he couldn't confirm whether there have been any fatalities.
Police urged the citizens of Illorsuit, which also saw the large waves, to return to their homes, but warned of sirens that would signal people to seek higher ground in case of aftershocks.
"It's not normal that we have such large quakes in Greenland," said Trine Dahl Jensen, a senior researcher at the Geological Survey of Denmark and Greenland (GEUS), as quoted by Aftenposten.
Danish Prime Minister Lars Lokke Rasmussen offered his sympathies to his Greenlandic counterpart, Kim Kielsen, over what he called "a terrible natural disaster" in his Twitter account.
Frygtelig naturkatastrofe i Nuugaatsiaq. Talt med formand for Naalakkersuisut Kim Kielsen for at udtrykke sympati og blive opdateret. #dkpol

— Lars Løkke Rasmussen (@larsloekke) 18 июня 2017 г.
With a population of some 56,000 people, Greenland, the world's largest island, has a vast ice sheet which covers around 80 percent of its area and is particularly affected by climate change.
You can share this story on social media: