Duterte says Marawi operation 'winding up' as death toll passes 300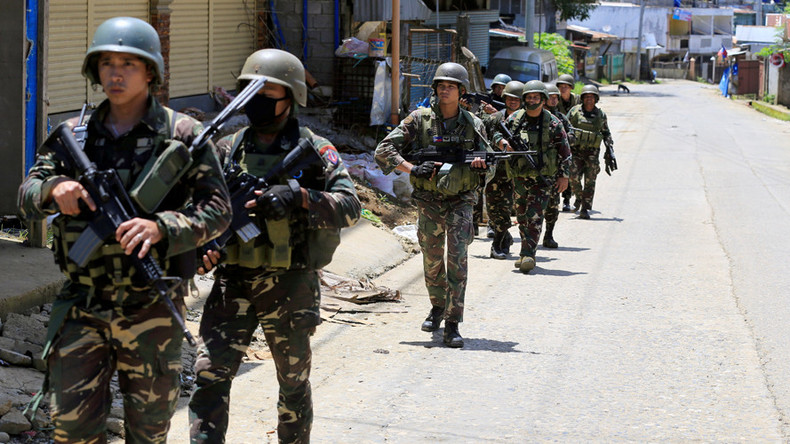 Philippines President Rodrigo Duterte has returned after a five-day break from public appearances to reassure soldiers and the media that the fight against Islamic State-affiliated fighters is drawing to a close, while the death toll has surpassed 300.
"The fighting is going on, but it's winding up," Duterte told soldiers of the 4th Infantry Division Command Post in Butuan City on Saturday. According to official government figures 225 militants, 59 soldiers and 26 civilians have been killed in the siege so far.
"It's difficult to fight those who are willing to die. They have corrupted the name of God in the form of religion to kill many innocent people, for nothing."
The president had not made any public appearances since last Sunday, with a spokesperson claiming he was suffering from fatigue, Reuters reports. Duterte did not appear during Philippines Independence Day celebrations on Monday.
When asked about his own health, Duterte downplayed the significance of the hiatus.
"Do not worry," he told reporters after addressing the soldiers. "My state of health is immaterial. There is the vice president who will take over."
When responding to media criticism of both the military's intelligence gathering before the crisis and its operational effectiveness during the three weeks of fighting, Duterte defended his decision to declare martial law and suggested that, if needs be, he will do so again in the future.
"If that rebellion burns Mindanao and the other parts of the Philippines, then I'll be forced to declare martial law again – this time I would do it on my own to preserve my nation. I will not consult anybody and there is no telling when it would end," he said.
Arguments are under way in the Philippines Supreme Court to potentially nullify the state of martial law that was declared on May 23.
Under Article 7, Section 1 of the Philippines Constitution, the president may declare martial law only in cases of invasion or rebellion, reports local news outlet ABS-CBN.
"The terrorists are committing rebellion, the rebels are committing rebellion. What do you want? That they burn half of Mindanao before we call it a true-blue rebellion? It's crazy," he added.
In the meantime, hundreds of thousands of people have been displaced by the fighting and aid agencies have been stretched to breaking point.
"It's going to be pretty tough in terms of how we respond to the needs of evacuees, especially that we're dealing with 233,000," provincial crisis management committee spokesperson Zia Alonto Adiong said Saturday, as cited by ABS-CBN.
Over 309,000 people have been displaced, reports Rappler, citing government data. A total of 19 deaths have been registered among those displaced by the fighting, said Mujiv Hatama, the governor of the Autonomous Region in Muslim Mindanao (ARMM), who said severe dehydration from diarrhea was the main cause of death.
You can share this story on social media: