Like in books & films: Putin talks about his 'romanticized' job as Soviet KGB spy
Published time: 17 Jun, 2017 22:15
Edited time: 18 Jun, 2017 10:56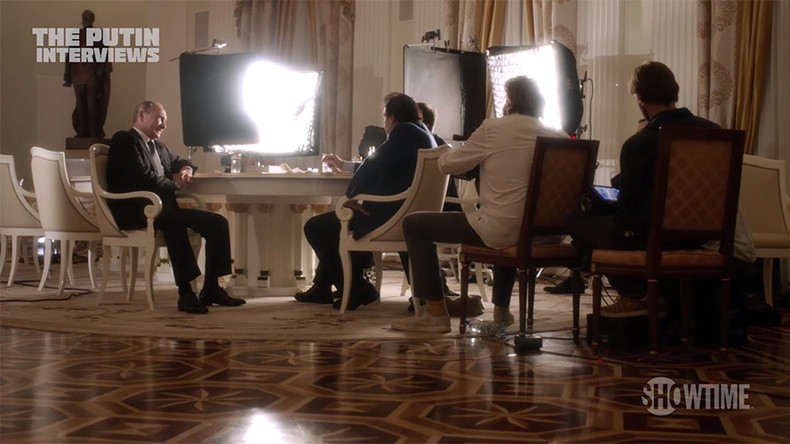 President Putin talked to Oliver Stone not only about politics and international affairs, but also about his family, childhood, and hobbies, and the time when he served as an under-cover KGB agent in Dresden in 1980s.
These memories, which President Putin shared with US filmmaker Stone, have become part of a book of full transcripts that includes material left out of the documentary series The Putin Interviews.
Vladimir Putin said he joined the KGB, the Soviet Committee for State Security, in 1975, because he had "always wanted to."
"I entered law school because I wanted to work for the KGB. And still when I was a pupil at school, I went to the KGB office in Leningrad (now St Petersburg) by myself. And I asked them what I had to do in order to work for the KGB. And the workers told me that I had to have a higher education and a better legal education."
However, Putin said he did not have "any contact with the KGB" following the visit, so he found it "quite unexpected that the KGB found me and offered a job" after he graduated from a law school.
When asked by Stone, Putin acknowledged he watched many films about the agency and their intelligence work and was particularly inspired by a Soviet-era espionage thriller called Seventeen Moments of Spring, in which the main character played by famous actor Vyacheslav Tikhonov is a Soviet spy in Nazi Germany. The president admitted to romanticizing about getting a job at the KGB.
Putin served as an under-cover spy in Dresden from 1985 through 1990 and retired with the rank of lieutenant colonel when the USSR collapsed. In the late 1990s, he briefly served as the head of the FSB, the KGB's successor.
'My brother fell ill & died' during WWII Siege of Leningrad
In a rare occasion, Vladimir Putin shared details about his family. He told the story of his older brother Viktor who died before his birth during the Siege of Leningrad during World War II. The future Russian president was born years later, in 1952.
"He [my brother] was less than three years old. Back then, in order to save children, children were taken from their families to support them, to save their lives. But my brother fell ill and he died. And our parents were not even informed where he was buried," he told Stone.
Putin only recently managed to find some records in the archives concerning the death of his elder brother.
"And last year was the first time that I visited his burial place. It's in Piskarevskoye Memorial Cemetery in St. Petersburg," he said.
Putin recalls that his father, Vladimir, who joined a small sabotage group under the People's Commissariat for Internal Affairs (NKVD), was wounded in the war.
"When the war started, he was serving in a special unit. There were small intelligence groups that were sent to the area guarded by the enemy to perform different actions. There were 20 people sent in such a group and only four survived," he said.
Only years later did Putin learn that his father had been sent "to one of the most dangerous areas of the Leningrad front."
Putin's father died in 1999 just months before his son was appointed as prime minister of Russia and, later, as acting president.
"But even before I became prime minister, when I saw him, when I came to see him, he always told the nurses, 'Look, here's my president coming,'" Putin said, recalling his father's last months.
'I thought I was never going to learn how to skate'
Putin told Stone that he started playing hockey at the age of 60.
"And that's very interesting. It's always interesting to learn something new," he said, adding that he doesn't know yet what new hobby he will take up at 70.
A couple of years ago, the President picked up skating.
"I thought that I was never going to learn how to skate. So, when I started skating, my first thought was: how to stop, how do I stop?"
Putin celebrated his 63rd birthday on the ice with the Night Hockey League stars back in 2015. The Russian president managed to score seven goals.
Among other activities, the Russian leader also gave deep-sea diving a try.
"I can't say that I liked it all, but it was very interesting," he said.