'Worse than Berlin Wall': Qatar's human rights chief slams blockade by Arab states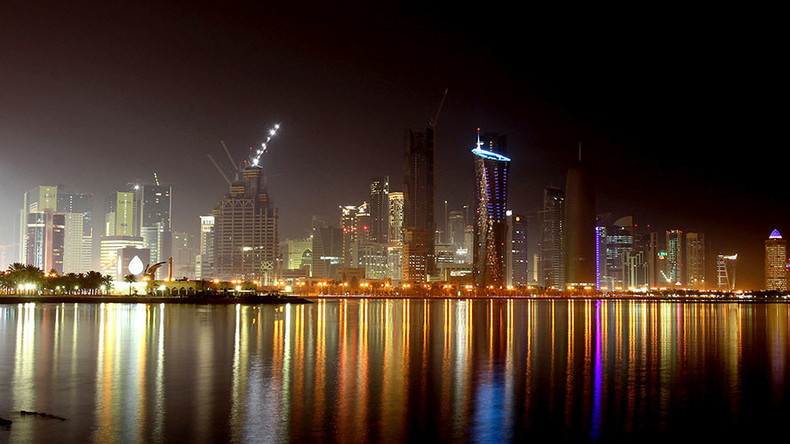 Top Arab states cutting ties with Qatar is a "collective punishment," Ali Bin Samikh Al-Marri, head of Qatar's National Human Rights Committee (NHRC), urging the UN to investigate the damage done by the blockade.
"This is collective punishment and the blockade will affect thousands of people," Marri warned as he spoke in Geneva, Switzerland on Friday.
The decision by Saudi Arabia, Bahrain, UEA, Egypt and other nations to cut diplomatic ties and transportation routes with Qatar is "worse than the Berlin Wall," which separated Western and Eastern Germany after WWII, he added.
He called upon the Arab states to lift their restrictions, which were imposed on Doha in early June amid claims that Qatar supports terrorism and has meddled in the internal affairs of other nations in the region.
Marri said the UN Human Rights Council should condemn the blockade, urging a UN "fact-finding commission" to be sent to Qatar to establish its negative impact.
He said that "families have been separated" due to the actions of the Arab nations, with NHRC getting hundreds of complaints from Qatari citizens.
"In one instance, a Saudi man died in Qatar. His sons were prevented by Saudi authorities from bringing the body back home, so Qatar took the responsibility to bury him," the Doha official said, as cited by Al-Jazeera.
He added that students were affected by the blockade, with foreigners called back from Qatar by their home countries and Qataris ordered out of universities in some Arab states.
Saudi Arabian Foreign Minister Adel al-Jubeir said Friday that a list of violations committed by Qatar, which caused the current rift, will soon be revealed to the public.
"I would not call them demands. I would say it is a list of grievances that need to be addressed and that the Qataris need to fix," Jubeir said, as cited by Reuters.
READ MORE: US should consider moving airbase from Qatar as it gives Doha 'nice insurance' – UAE envoy
"We are working on those with our Bahraini, Emirati and Egyptian partners in order to compile this list and present it to the Qataris, and I think it will be done fairly soon," he added.
Meanwhile, Turkish Foreign Minister Mevlut Cavusoglu arrived in Saudi Arabia on Friday for talks with King Salman as Ankara attempts to perform the role of mediator in Qatar's rift with its Arab neighbors.
Earlier, Turkish Deputy Prime Minister Numan Kurtulmus said he expected the situation to be resolved soon, as "this is completely an artificial crisis."
READ MORE: Qatar Airways appeals to UN over Gulf blockade
"This crisis has no basis, no socio-political background… We wish for the crisis to be resolved quicker than other crises," Kurtulmus said, as cited by Turkey's Anadolu news agency.
You can share this story on social media: