US should consider moving airbase from Qatar as it gives Doha 'nice insurance' – UAE envoy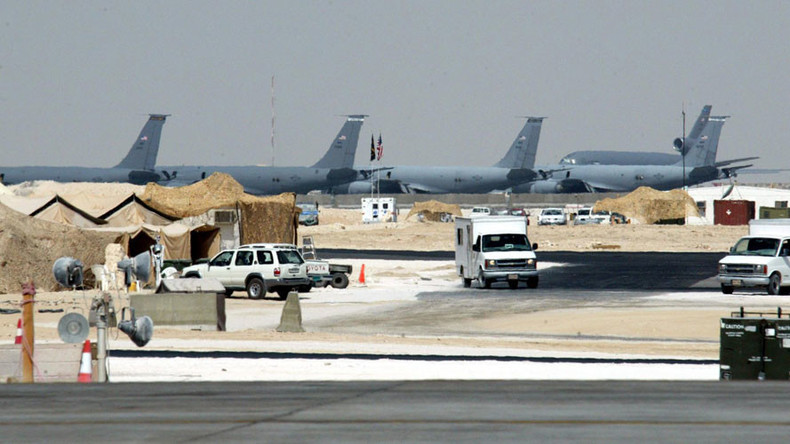 Washington should consider relocating its Al Udeid airbase from Qatar as it gives the gas-rich state "a nice insurance policy" against pressure from Arab neighbors, the UAE ambassador to the US argued as the Gulf political crisis enters its second week.
As the all-out political crisis among Persian Gulf states enters its second week, the United Arab Emirates Ambassador to the US Yousef al-Otaiba threatened Qatar with more punitive actions. He also complained about Washington's massive military presence in the monarchy.
Speaking to reporters on Tuesday, Otaiba said the US and his own country had allowed "bad behavior" by Qatar to continue for "a very long time," as cited by AP.
"If I want to be honest, I think the reason action hasn't been taken against Qatar is because of the airbase," he said, referring to the base near the capital, Doha. "The airbase is a very nice insurance policy against any additional pressure."
During the early 1990s, Qatar invested sizeable amounts of money to construct the airbase in an area southwest of Doha. The facility has then been used by British Royal Air Force and the US Air Force amid wars in Afghanistan and Iraq. Since 2014, the Al Udeid base has been used by the US-led coalition in their operations against Islamic State (IS, formerly ISIS/ISIL).
Additionally, Al Udeid serves as a command and logistical hub for current American deployments in Afghanistan and Iraq. Camp As-Sayliyah, a nearby military compound, houses a number of US command and control facilities supporting the Central Command's operations.
"Maybe someone in Congress should have a hearing and just say, you know, 'Should we consider moving it?'" Otaiba suggested. "And maybe not moving the entire base. Maybe just distribute to various countries so you don't have all your eggs in one basket."
Though he admitted the UAE has not yet discussed the proposal with the US, the Emirates are "willing to have that conversation." US troops stationed in Qatar would also relocate to the UAE, he argued, adding the "infrastructure is in place" if such talks ever take place.
Several major Middle Eastern states, including Saudi Arabia, the UAE, Egypt and Bahrain have severed diplomatic ties with Qatar last week, accusing the monarchy of sponsoring terrorist groupings and meddling in neighbors' domestic affairs. Al Jazeera, the government-backed global television network, has also drawn particular consternation from Gulf monarchies.
Washington has already urged parties to seek a comfortable solution to the crisis. Calling to ease blockade of Qatar, Secretary of State Rex Tillerson stressed it is "hindering US military action in the region and the campaign against [Islamic State or IS, formerly] ISIS." He also said it was crucial to engage in a "calm and thoughtful dialogue with clear expectations" in order to resolve the crisis, endorsing the mediation proposal by the Emir of Kuwait.
Otaiba, however, said the American plea is unlikely to be heard in Arab capitals. "That's not going to happen," Otaiba said.
Still, he said he did not foresee the crisis becoming a military conflict, even if Qatar refused to bow to demands. Even if Qatar does accept the list of demands, Otaiba said they'd have to fulfill specific steps over a period of time to show seriousness before the countries would restore ties to the tiny country. "There will be an escalation of economic pressure" unless Qatar changes course, Otaiba said. "We've gotten fed up. We've had enough."
The anti-Qatar camp has recently presented the US a list of demands Doha must accept in order for the sanctions to be lifted. According to Otaiba, the list includes closing or curtailing Qatar-funded media attacking UAE and others, as well as putting an end to Doha's alleged support for terrorism.
"There will be an escalation of economic pressure" unless Qatar changes course, Otaiba said.