Turkish MPs approve faster troop deployment to Qatar base as Erdogan slams Doha isolation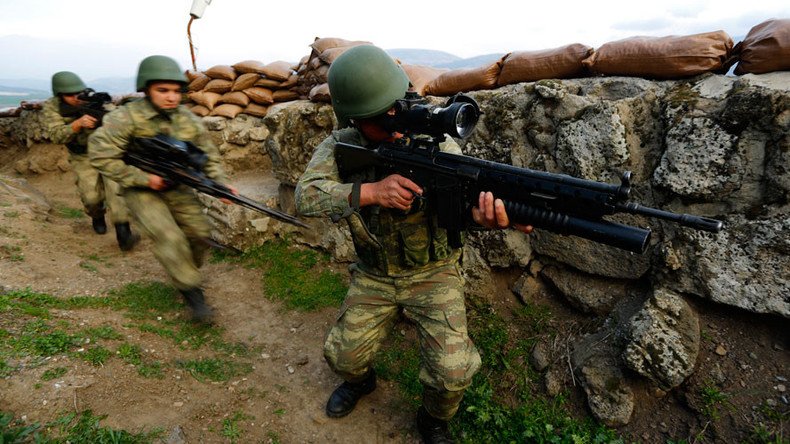 Turkey's parliament has passed a draft bill allowing troops to be deployed to a military base in Qatar. It comes amid a diplomatic row between Qatar and Arab nations.
The legislation was passed with 240 votes in favor, according to Reuters.
The bill focused on allowing troops to be deployed to a Turkish military base in Qatar, which was set up by Ankara as part of an agreement signed in 2014.
Turkey's cooperation with Qatar comes as several countries and organizations - including Saudi Arabia, the United Arab Emirates (UAE), Bahrain, Egypt, Yemen, the Maldives, and one of Libya's three rival governments - cut ties with Doha on Monday, accusing it of financing terrorist groups ranging from Islamic State (IS, formerly ISIS/ISIL) to Iran-backed militants.
The Turkish bill was drafted before the row between Qatar and Arab nations erupted.
Erdogan has slammed Arab states for turning their backs on Qatar, which has vehemently denied supporting militant groups.
The Turkish president said that isolating Qatar and imposing sanctions will not resolve any problems, adding that Turkey will do everything in its power to help end the diplomatic row.
"I'd like to say that we don't find sanctions against Qatar right," Erdogan said late Tuesday, as quoted by Bloomberg. "The most appropriate way for the Gulf Cooperation Council countries to solve their internal issues is through dialogue. In this regard, we admire Qatar's constructive and cool-headed approach."
READ MORE: Arab League nations v Qatar: How it all started
Turkey and Qatar, which have friendly relations, have both provided support for the Muslim Brotherhood in Egypt - a political party which has been banned by both Saudi Arabia and the UAE.
Both countries have also backed rebels fighting to overthrow Syrian President Bashar Assad.
The base where the Turkish troops would be sent was designed to serve primarily as a site for joint training drills, Turkey's former ambassador to Qatar, Ahmet Demirok, told Reuters in 2015.
A total of 150 troops have already been stationed at the base, according to Turkey's Hurriyet newspaper. Ankara plans to eventually send a total of 3,000 ground troops there, Demirok said during his interview with Reuters two years ago.
You can share this story on social media: