'Trumpification': Row between Gulf states & Qatar helps nobody, German FM says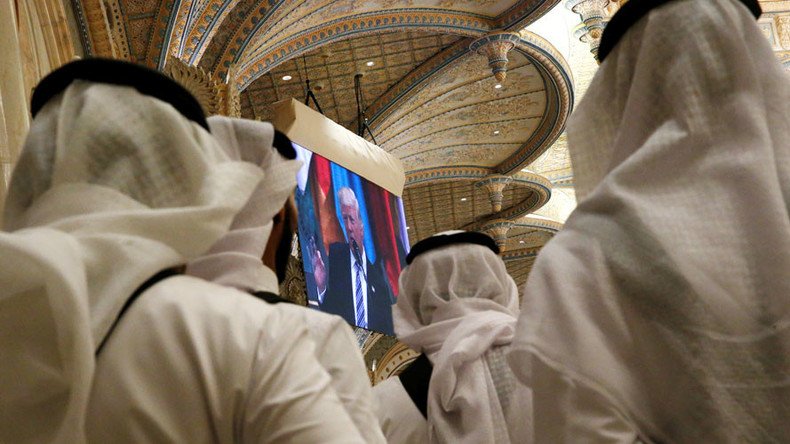 The lingering diplomatic spat between Qatar and several Gulf states is "Trumpification," the German foreign minister said, adding that US weapons deals with the Middle East risk a new arms race and escalation in a region already plagued by conflicts and sectarian divides.
"Going beyond politics and diplomacy, such as recalling ambassadors or cutting diplomatic ties, Qatar will be more or less isolated and existentially affected [by the move]," German Foreign Minister Sigmar Gabriel told Handelsblatt newspaper, the ministry's website stated.
"Such 'Trumpification' of the way the countries deal with each other is particularly dangerous in a region which finds itself in a crisis," the top diplomat continued.
He added a further escalation of Middle Eastern tensions "serves no one's interests," because the region itself "is a political and military powder keg."
The foreign minister spoke after the recent rift between Qatar and other Gulf states which severed diplomatic ties and cut transportation links, citing Doha's alleged complicity in sponsoring terrorist groupings and meddling in domestic affairs.
"Religious, ethnic, political and ideological conflicts are now also ripping through the Gulf monarchies," Gabriel said.
Citing the ongoing fight against Islamic State (IS, formerly ISIS/ISIL) as well as the ongoing conflict in Syria, the foreign minister argued that "a deep-rooted spat between neighbors is the last thing you need."
Later on Wednesday, Gabriel urged all those involved in the spat to refrain from making the situation worse.
"We all - and that is also the view of my Saudi counterpart - are interested in avoiding any further escalation, because the region is already facing great tensions and challenges," Gabriel said after a meeting with Saudi Foreign Minister Adel al-Jubeir, as cited by Reuters.
Gabriel also noted that American deals with Middle East states might also contribute to further tensions.
"US President [Donald] Trump's recent giant arms deals with Gulf monarchies increase the risk of a spiraling arms race," he warned.
"This is a completely wrong policy, which is surely not Germany's policy," Gabriel said in his statement to Handelsblatt.
The $110 billion arms deal recently sealed between Washington and Saudi Arabia includes tanks, artillery, helicopters, light close air support, intelligence-gathering aircraft, and air defense systems such as Patriot and THAAD, among other things.
Trump himself has hinted that the diplomatic spat which saw Saudi Arabia, the UAE and several other Arab countries cut ties with Qatar over alleged funding of terrorist groups was a result of his recent Middle East tour.
"So good to see the Saudi Arabia visit with the King and 50 countries already paying off," Trump tweeted.
"They [Arab states] said they would take a hard line on funding extremism, and all reference was pointing to Qatar. Perhaps this will be the beginning of the end to the horror of terrorism!" he added.
During his visit to Saudi capital Riyadh in May, Trump urged Middle Eastern and Muslim-majority countries to step up efforts to tackle the "crisis of Islamic extremism."
"The nations of the Middle East cannot wait for American power to crush this enemy for them. The nations of the Middle East will have to decide what kind of future they want for themselves, for their countries, and for their children," the US president said at the time.
You can share this story on social media: