Over 1mn sign petition to ban Monsanto's weed killer in EU over cancer fears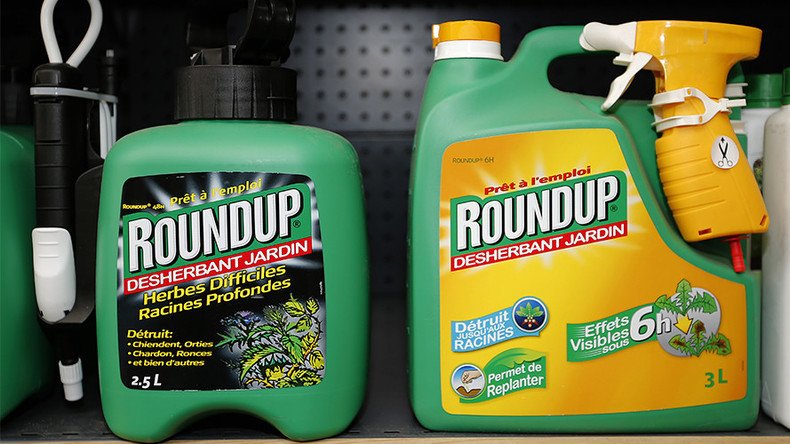 More than a million people have signed a petition demanding that the European Union ban glyphosate, the main ingredient in Monsanto's Roundup weed killer, over fears it causes cancer.
"In less than five months, more than one million EU citizens have joined our call for a glyphosate ban," said David Schwartz, coordinator at the European Citizens Initiative, which is behind the petition, as quoted by AFP.
"European citizens aren't fooled by the pesticide industry's lobbying efforts or the faulty science it's peddling," he said.
The group said it achieved the minimum number of signatures required to receive a formal response from the European Commission – 1 million names from at least seven countries – in record time.
Environmental organization Greenpeace said the five-month campaign was the "fastest growing... since the EU introduced this [petition] tool in 2012."
"Our politicians need to hear this message loud and clear," Schwartz said.
The EU is currently mulling whether to renew the license for the controversial herbicide produced by Monsanto and is set to formally decide on the matter in December.
The European Chemicals Agency (ECHA) ruled in March that glyphosate should not be classed as a carcinogen, stating that it does not "meet the criteria."
That ruling came after the European Food Safety Authority (EFSA) arrived at a similar conclusion in 2015, stating that glyphosate is "unlikely" to pose a carcinogenic threat to humans.
However, both rulings have been challenged by scientists, environmental groups and members of the European Parliament, who have pointed to evidence from the World Health Organization (WHO) that glyphosate may cause cancer.
Just last month, leading US toxicologist Christopher Portier wrote a letter to EU Commission President Jean-Claude Juncker, stating that both agencies failed to identify "significant cancer findings" when deciding not to classify the chemical as a carcinogenic, citing rodent studies.
READ MORE: 'Taking back our food sovereignty': Protesters worldwide join March Against Monsanto (PHOTOS)
"I found eight significant increases in tumor incidence that do not appear in any of the publications or government evaluations presented by both EFSA and ECHA," he wrote at the time.
Glyphosate is one of the world's most heavily used weed killers, and was registered in over 130 countries as of 2010, according to data from the International Agency for Research on Cancer (IARC).
READ MORE: Monsanto attempt to block glyphosate from California cancer list tossed by judge
If the chemical were to be banned by the European Union, Monsanto could suffer up to $100 million in lost profits, according to analysts cited by Reuters.
You can share this story on social media: