'Taking back our food sovereignty': Protesters worldwide join March Against Monsanto (PHOTOS)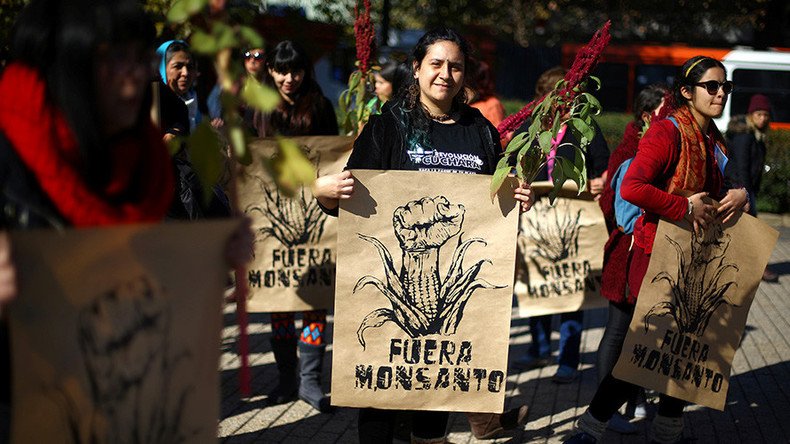 Hundreds of activists around the globe joined an international march against the multinational biotech and agribusiness corporation Monsanto.
"We will not stand for cronyism. We will not stand for poison. That's why we March Against Monsanto," the organizers of the 6th annual march said in a statement.
The activists argue that "research studies have shown that Monsanto's genetically-modified foods can lead to serious health conditions such as the development of cancer tumors, infertility and birth defects."
The movement's website says work to organize rallies was carried out in more than 200 cities.
"There's no question that March Against Monsanto is the most powerful grassroots initiative we have in the fight to reclaim our food supply from the GMO seed juggernaut known as the Monsanto Company," said Anthony Gucciardi, a March Against Monsanto representative.
In the wake of the protests, Monsanto released a statement, in which the company welcomed different opinions on its practices, but stressed that it is proud of the work it is doing.
"The more than 20,000 people [at] Monsanto are committed to having an open dialogue about modern agriculture and how food is grown as we focus on using digital tools, data and research to find solutions that balance the need to feed people and protect the planet – we're proud of the work we do, and we're eager for people to know more about us," the statement read.
The company said that it is committed to developing new tools "help the world's farmers grow food using less of the earth's natural resources."
"We know people have different points of view on these topics, and it's important that they're able to express and share them," Monsanto said of the protests.
Monsanto Canada's public & industry affairs director, Trish Jordan, took to Twitter to defend the company's flagship chemical, Roundup, claiming that there's no scientific of proof of its main ingredient glyphosate being the cause of cancer.
The Canadian city of Toronto was one of the first to join the march on Saturday. "Bee healthy. Save native plants. No GMOs," said banners held by the demonstrators.
"This is about taking back our food sovereignty and making sure we have seed freedom," said Rachel Parent, founder of nonprofit Kids Right to Know, as cited by local media.
The Montreal rally was organized by Vigilance OGM group, whose motto is: "We are stronger than Monsanto."
"With Nature, not against it!" said banners held by protesters in the southern French city of Bordeaux.
Some 300 people joined the protest against the biotech giant in Lyon, eastern France.
Protesters in Lisbon, Portugal also marched for organic food.
A march against Monsanto and Syngenta, a global Swiss agribusiness that produces agrochemicals and seeds, drew some 1,500 people in the Swiss city of Basel, local media reported.
Numerous protests against the agrochemical corporation were held across the US.
About 100 people showed up at City Hall in Orlando, Florida. "This is about raising awareness about what goes into our food," Vickie Stober, one of the activists, told the Orlando Sentinel. "Grow your own food, buy local and organic."
Crowds of people took to the streets of Buenos Aires to march near the company's office in the Argentine capital.
Africa also joined in as crowds of demonstrators were shouting anti-Monsanto slogans in Ghana.
You can share this story on social media: