Zara founder's $361mn donation to fight cancer stirs controversy amid tax evasion claims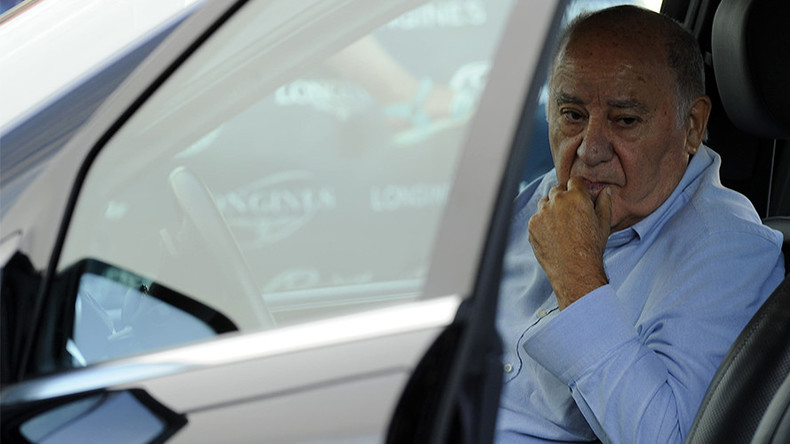 Zara's founder is sharing his wealth by donating $361 million worth of state-of-the-art cancer fighting equipment to Spanish hospitals, but his goodwill is being slammed by those who believe the retail chain's parent company is guilty of tax avoidance.
The donation made by Amancio Ortega, the store's founder and the richest man in Europe, has been sharply criticized since the Green Party accused Zara's parent company, Inditex, of employing "aggressive" tax strategies and techniques to avoid paying €585 million ($653 million) in taxes from 2011 to 2014 – a claim that Inditex denies.
One of Ortega's biggest critics is the far-left Podemos party. Its leader, Pablo Iglesias, has slammed the donation as a marketing gimmick, insisting it is wrong that "philanthropy should be seen as a mechanism to finance public health" in Spain.
The Federation of Associations for the Defense of Public Health Services has also hit out at Ortega, with spokesperson Luisa Lores telling AFP that the donation is a "way to avoid paying taxes," as part of the donation is tax deductible.
The federation also made its platform clear earlier this month, saying in a statement that Ortega should "not be demonstrating his philanthropy but his desire to contribute to public finances in a way that is proportional to his profits."
However, people actually battling cancer have expressed gratitude, including a patient named Inma Escriche who took to Facebook to say she hopes those who have condemned the donation never have to experience what she is going through.
"I just wish that neither they nor any loved one (in the hypothetical case that they are capable of loving someone) are in the position of needing it," she wrote, referring to the donated equipment.
The billionaire's donation represents eight percent of last year's public health budget for Spain, a country which sees more than 200,000 cancer cases diagnosed annually, according to Ortega's foundation, which is carrying out the donation.
Hospitals in Galicia and Andalusia have already received machines used for screening and radio therapy treatment of breast cancer, according to Reuters. Ortega's foundation told AFP that it will continue to arrange delivery of the equipment to other hospitals across the country.
Ortega's foundation was set up in 2001 with proceeds from Inditex's stock market flotation. It has previously funded other charitable projects, including scholarships for students to study abroad and the construction of early learning centers in Ortega's home region of Galicia.
Earlier this year, Forbes ranked Ortega as the fourth richest man in the world, boasting a personal wealth of $71.3 billion. However, much of that wealth fluctuates based on the stock market valuation of his 60 percent majority stake in Inditex.
Inditex, which owns eight retail chains, experienced an 18 percent jump in net profit in the first quarter of 2017, reaching €654 million ($729 million). The company has 7,385 shops in 93 countries, the Financial Times reported on Wednesday.