US warships arrive in Qatar for drills days after Trump slams Doha as 'funder of terrorism'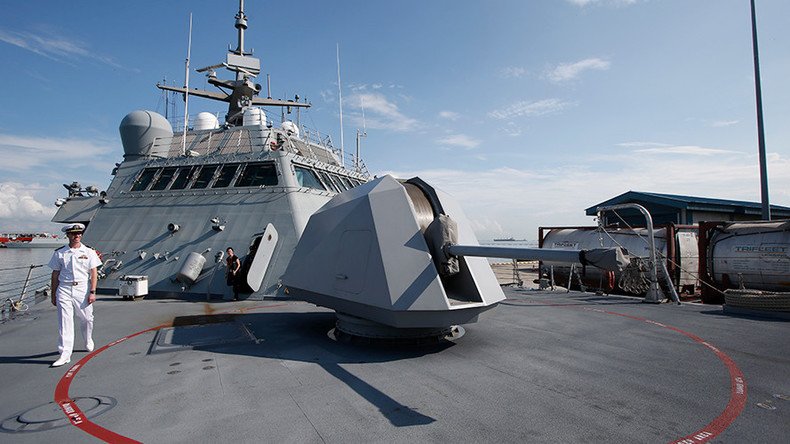 Two combat US Navy ships have reportedly sailed into Doha for joint drills with the Qatari navy. It comes amid a widening rift between Qatar and a number of Gulf states, and US President Donald Trump accusing Doha of sponsoring terrorism.
The crews of the US warships were greeted by their Qatari counterparts after they disembarked in Doha upon their arrival on Wednesday, Reuters reported, citing the state-run Qatar News Agency.
The deployment follows a set of sharp remarks by Trump, in which he accused Qatar of channeling support to extremists, stating that the Gulf Kingdom has "historically been a funder of terrorism at a very high level."
The US leader took up a harsh tone against Doha after several Middle Eastern countries, including the US major ally in the region, Saudi Arabia, as well as Bahrain, United Arab Emirates and Egypt severed diplomatic relations with Qatar earlier this month, accusing it of supporting terrorism and cozying up to Iran.
Praising the move on Twitter, Trump appeared to take credit for the political and economic blockade of Qatar, led by the oil-rich Gulf monarchies, implying that it was a direct consequence of his first foreign trip across Middle East, which he boasted "was already paying off."
"I stated that there can no longer be funding of Radical Ideology. Leaders pointed to Qatar-look!" he wrote, adding that "perhaps this will be the beginning of the end to the horror of terrorism."
READ MORE: US sells $12bn worth of fighter jets to 'terrorist funder' Qatar
However, not everyone in the US administration appeared to share Trump's stance on the issue, with US State Department attempted to distance itself from the president's remarks by calling on all parties to engage in "a calm and thoughtful dialog with clear expectations."
US Secretary of State Rex Tillerson urged parties embroiled in the dispute to ease the blockade, as it hampering the US military action in the region and, in particular, the US-led effort to defeat Islamic State (IS, formerly ISIS, ISIL).
READ MORE: Middle East trip 'already paying off' – Trump on Qatar-Arab League rift
The Pentagon went even further, voicing support for Qatar, which hosts the US Central Command contingent, serving as a command and logistical hub for missions in Iraq and Afghanistan.
Qatar's Udeid Air Base has been used by the US-led coalition in its operations against IS militants since 2014. Over 100 US and US-led coalition aircraft are stationed at the base and over 10,000 troops are deployed there.
"We continue to be grateful to the Qataris for their longstanding support for our presence and their enduring commitment to regional security," Pentagon spokesman Jeff Davis said on June 8 in a closed briefing. Responding to a question about an apparent contradiction between the Pentagon's statement and the rhetoric by the US President, Davis quipped: "I can't help you with that."
READ MORE: 'Un-Islamic, inhumane:' Erdogan blasts Qatar isolation
Davis also refused to weigh in on whether he views Qatar as a "supporter of terrorism," saying that he is not "the right person" to make a judgement.
With mixed signals coming from Washington, the UAE Ambassador to the US Yousef al-Otaiba called on the US to remove its base from Qatar, calling it an obstacle to the more decisive action.
"The airbase is a very nice insurance policy against any additional pressure," al-Otaiba said on Tuesday, proposing his country as an alternative location for the base.
You can share this story on social media: