'Un-Islamic, inhumane:' Erdogan blasts Qatar isolation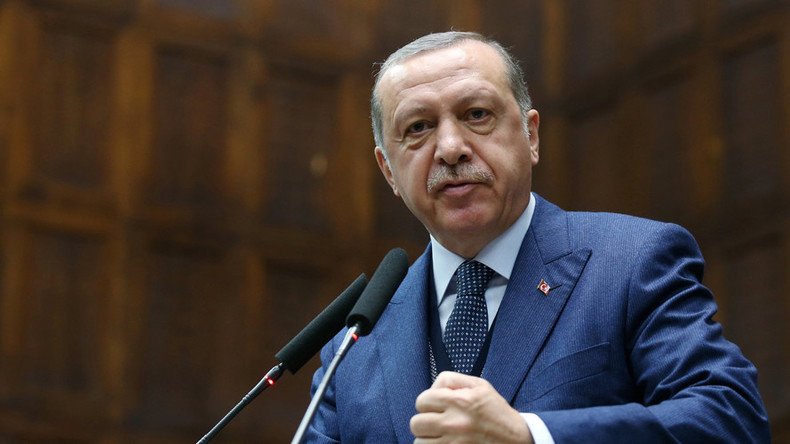 Turkish President Recep Tayyip Erdogan has condemned the isolation of Qatar as "un-Islamic and inhumane," equating the methods used against the state to a "death penalty."
Erdogan delivered his comments while addressing members of his party in parliament on Tuesday.
"A very grave mistake is being made in Qatar, isolating a nation in all areas is inhumane and against Islamic values. It's as if a death penalty decision has been taken for Qatar," Reuters quotes Erdogan as saying.
The rift between Qatar and Arab League states opened earlier in June, when a number of the region's states - including Bahrain, Saudi Arabia, the United Arab Emirates (UAE), Egypt, and Yemen - severed diplomatic ties with Qatar, accusing Doha of supporting Islamist militants and Iran. Qatar has dismissed the allegations as a "campaign of incitement" which is "based on lies."
Erdogan said that it was Qatar, alongside Turkey, which had been fighting Islamic State (IS, formerly ISIS/ISIL) extremists the most.
"Qatar has shown the most decisive stance against the terrorist organization Islamic State alongside Turkey. Victimizing Qatar through smear campaigns serves no purpose," Erdogan said, urging the Saudi king, as an elder politician in the region, to take the lead in untangling the crisis.
As the Qatari crisis unfolded, Erdogan almost immediately announced "full support" for Doha, stating that "we don't find sanctions against Qatar right."
Last Wednesday, Turkey's parliament promptly approved two deals signed in December 2015 and April 2016 between the two countries – to deploy Turkish troops to a base in Qatar and to train its domestic police force. The legislation was ratified by Erdogan the following day.
READ MORE: Erdogan ratifies Turkish troop deployment to Qatar
"Turkish troops are coming to Qatar for the sake of the securıty of the entire region," Qatari Foreign Minister Mohammed bin Abdulrahman al-Thani told reporters last Thursday.
A three-person team of Turkish military experts arrived in Qatar on Tuesday to coordinate preparations for deployment, AP reports, citing an army statement. The military added that such visits have been underway since 2015. An agreement on a Turkish military base in Qatar was signed in 2014.
You can share this story on social media: