'Organs shrunk to half normal size': Belgian parents convicted after baby starved to death
Published time: 14 Jun, 2017 15:35
Edited time: 15 Jun, 2017 09:22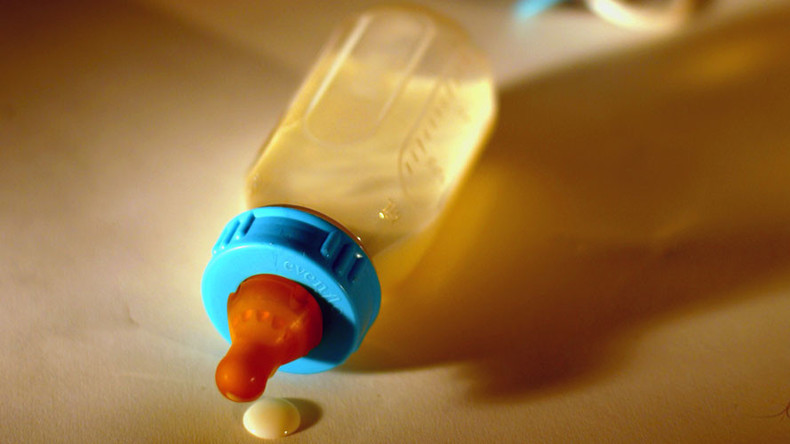 A Belgian court has convicted parents whose baby died of malnutrition and dehydration after being given an alternative lactose- and gluten-free diet. The seven-month-old boy's organs shrank to half their size, and his stomach was empty.
The death of the baby boy, Lucas, was "the result of the systematic offer of food which was not suitable," Judge Mieke Butstraen said on Wednesday, as cited by AP.
"His health was seriously impeded and he eventually died," Butstraen said, adding that the parents received six-month suspended sentences, which they can appeal.
"It appears from the file that they treat their children with the best intentions, but their convictions still endangered the health of their son Lucas, leading to his death.
"It's clear that the defendants have already been severely punished because they need to proceed with life in the knowledge that they are responsible for the death of their son, who they truly loved," Butstraen said.
Prosecutors initially demanded 18 months' imprisonment for the boy's parents, but lawyers asked for an acquittal, saying that the pair never intended for the child to die.
"The defendants knew the precarious health situation of their child, yet refused to call in medical help in time," the judge said.
Lucas was brought to the emergency department in the town of Hasselt in June 2014 and eventually died, reports in Belgian media from May this year said.
The seven-month-old was dehydrated and weighed 4.3kg (9.4lbs)– barely 1kg more than his birth weight. The investigation then determined that the boy was chronically malnourished.
The child's parents, identified by Belgian media as Peter, 34 and Sandrina, 30, own a health foods shop. They kept the boy, reportedly their third child, on a milk diet but then concluded that he was gluten-intolerant and allergic to lactose, prosecutor Pascal Persoons said back in May.
The boy's mother said that her son's weight had fluctuated.
"When he was six months old, he still weighed 6kg," she said, as cited by Het Nieuwsblad newspaper. "He did not have diarrhea, but he lost weight since then," she added, saying that the shop's customers could see the baby in the shop when he was playing.
However, the parents did not consult a doctor, court papers show, according to AP, and stopped going to social care. They reportedly searched the internet for his possible condition and took advice from shop clients.
Lucas's parents tried various alternatives, including oat milk, rice milk, buckwheat milk and quinoa milk, defense lawyer Karine Van Meirvenne said.
"In the law, it (the judgment) says (that they are guilty of) 'not giving any support or food to your child.' But they gave support and food but in an alternative way so there were alternative foods they gave, it is not 'not giving any food,' it is completely different," she said, as cited by AP.
"We never wanted the death of our son," the baby's mother said.
The prosecutor said that doctors later examined the boy and concluded that he was not lactose- or gluten-intolerant. The case has sparked uproar in Belgium over the use of alternative medicine.