'Kill a baby, get a baby,' sorcerer tells accomplice before sacrificing infant girl in India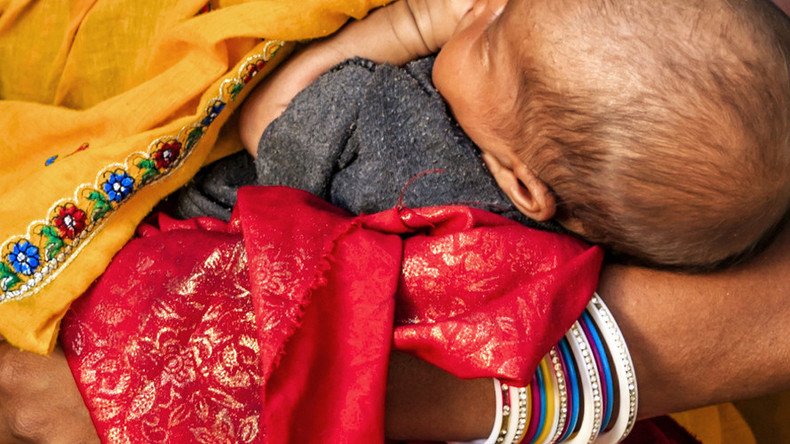 Two men have been arrested after murdering a 6-month-old girl in a black magic sacrifice in the eastern Indian state of Jharkhand. The horrific ceremony was intended to appease a god in hopes that one of the perpetrators' wives would be able to have a child.
READ MORE: 10yo Indian girl killed in 'black magic sacrifice ritual'
The six-month-old baby was taken from her home on night of May 25 from Choura village while her parents, Subhash and Parvati Gope, slept. Police say the suspects then offered the baby's blood to the gods so that one of the men could have a child.
Her two kidnappers, Karmu Kalindi and Bhadohi Kalindi, are now being held in custody where they have confessed to the crime and say they buried her body on a riverbed. The girl's body has not yet been recovered.
"We have solved the child-theft mystery. The accused have confessed to their crime," police spokesman Sandip Bhagat told the Hindustan Times. "The dagger they had used for sacrificing the child has been recovered."

Karmu, who practices black magic, is the next-door neighbor of the bereaved Gope family. He told Bhadohi, who lives in a neighboring village and works as a snake charmer, that he and his wife would be blessed with a child if they sacrificed the baby to appease the gods. Karmu's sudden disappearance after the baby's abduction then aroused the suspicion of police.
READ MORE: 'Evil spirit removal': Indian man charged with witchcraft in Canada
Superstitions, traditional beliefs and illiteracy are common in this part of India. The Gopes themselves turned to another sorcerer in the search for their daughter. They are now calling for the death penalty for her murderers.
The murder is also likely to intensify violence linked to alleged child thieves in rural areas. According to the Hindustan Times, nine "innocent" strangers were lynched by mobs since May based on rumors they came after people's children.
READ MORE: Russian MP proposes up to 5 years in prison for killer wizards, folk healers
You can share this story on social media: