10yo Indian girl killed in 'black magic sacrifice ritual'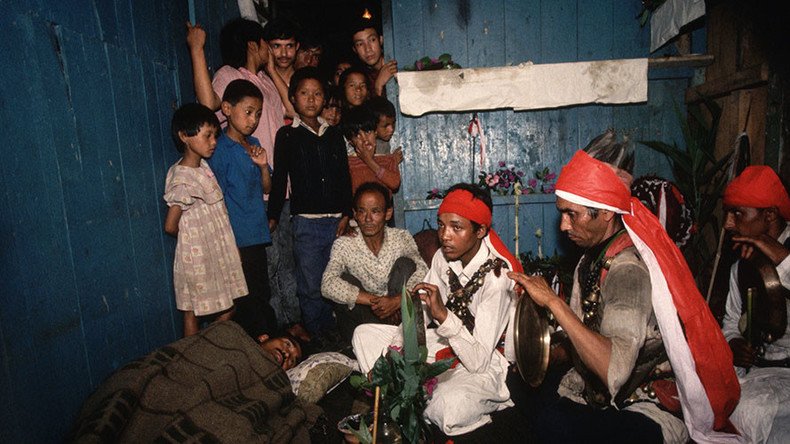 Ayesha Mohammed Nurulla, the 10-year-old whose body was found on the outskirts of a village in southern India, appears to have been sacrificed in a black magic ritual to cure a paralyzed man, police told media.
Four people were arrested, including Ayesha's uncle Mohammed Wasil, who took the initiative to murder the girl, the Hindu Times reported Sunday.
Wasil reportedly wanted to cure his paralyzed brother Rafiq when he approached Naseem Taj, a black magic practitioner.
"Naseem Taj suggested that Wasil's brother Mohammed Rafiq could be cured of paralytic stroke if a girl was sacrificed. She had suggested that Rafiq had been 'gripped by evil spirits' and paralyzed, and to be cured of this, he had to sacrifice a minor girl within 40 days," the police said.
READ MORE: Pakistani woman dies in fake exorcism after being brutally tortured by 'healers'
Wasil then began looking for a girl and thought of his neighbor and cousin Mohammad Nurulla's daughter Ayesha. He took a picture of her and sent it to a 'sorceress', who approved Wasil's choice.
On March 1, Wasil kidnapped the girl from her home in Magadi, gagged her, then slit her throat, performing an occult ritual. Later on, the girl's body was packed in a sack and dumped behind a mosque, according to the Times of India.
The murder was discovered after the girl's body was found. Wasil and his associates confessed to the crime during interrogation, police said.
You can share this story on social media: