Suspected N. Korean drone snapped THAAD photos – S. Korean officials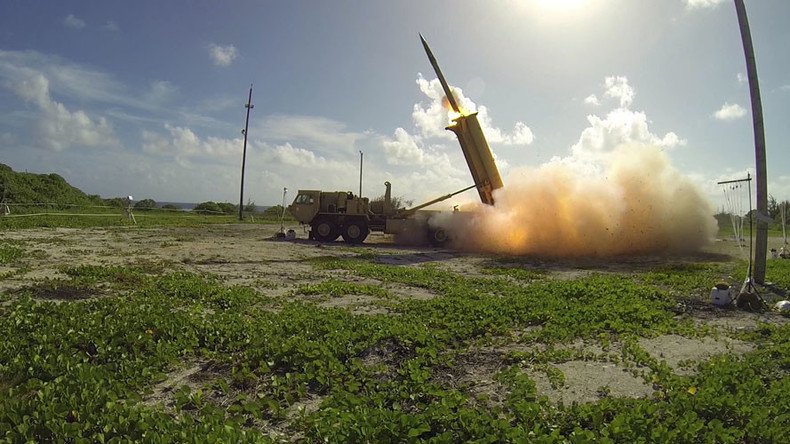 A suspected North Korean drone has been discovered by Seoul near the country's border, according to South Korean military officials. The drone managed to take photos of the THAAD missile defense system before crashing.
The unmanned aerial vehicle (UAV) was found by a local resident on a mountain in South Korea's Gangwon Province last Friday, Yonhap News Agency reported, citing officials.
It is believed to have been deployed by Pyongyang, and to have crashed after running out of fuel while returning to the North.
Since its discovery, investigators have found around 10 photos of the Terminal High Altitude Area Defense (THAAD) missile defense system, which the United States installed in the South Korean town of Seongju earlier this year.
"It was confirmed that (the craft) took photos of the THAAD site in Seongju," a South Korean defense official told reporters.
READ MORE: China urges US to pull THAADs out of South Korea after secretive deployment
"We confirmed that it took about 10 photos," a ministry official told Reuters on condition of anonymity.
An analysis is currently being conducted to determine whether the drone had already transmitted the 10 photos to Pyongyang, a defense ministry official told AP.
The pictures were taken using the drone's built-in Sony camera.
THAAD is designed to intercept short, medium, and intermediate-range ballistic missiles during their terminal flight phase.
The US and South Korea agreed to deploy THAAD last year, in response to Pyongyang's development of ballistic missiles and nuclear weapons.
The system, which is located just 250 kilometers (155 miles) from the North Korean border, has been referred to as a provocation by Pyongyang and has also prompted backlash from China.
Meanwhile, the drone's camera also snapped hundreds of photos of less sensitive material in South Korea, including residential areas and farmland, the official told AP.
It is not the first time a suspected North Korean drone has been caught following a surveillance mission. Several suspected drones were found on a South Korean island near the border in 2014, which were equipped with Japanese-made cameras that photographed South Korea's presidential Blue House, along with other areas.
North Korea has around 300 drones of different types. Among them are combat drones and UAVs designed for reconnaissance, according to a 2016 UN report cited by Reuters.
READ MORE: S. Korean THAAD deployment faces delay of up to a year over environmental impact probe
"We will come up with measures to deal with North Korean drones," an official at South Korea's Office of the Joint Chiefs of Staff told Reuters on condition of anonymity.
The newest drone discovery comes amid heightened tensions between Washington and Pyongyang. US President Donald Trump has vowed to "solve the problem" of North Korea by putting an end to its nuclear and ballistic missile programs.
However, North Korea has ignored all calls to halt its programs, which are in violation of UN resolutions, conducting dozens of missile launches and testing two nuclear bombs since the beginning of last year.
You can share this story on social media: